Changing Leaves: High school drama
The moment I realized I had grown up wasn't when I graduated high school or started university. It wasn't when I passed my driver's test or got my first weird marriage proposal from a dude 12 years older than me (which my whole family and I rejected). It was when I was involved in drama for the first time—which was in the last few months of high school.
Usually, I steer far away from drama, but I found myself smack-down in the middle of it right before prom and ended up sitting with the people against me during the night of dancing because we had chosen our prom table before the issue unravelled. Let's just say that the table was split in half with neither side looking at the other.
Ironically, you'd think that drama would make you feel like a teenager, but because it was my first conflict, my whole world came crashing down. In many ways, I do not feel like I am at fault, but at the same time, I blame myself for a lot of it. It led to a lot of dark nights for me, but I regret not simply speaking up and having a conversation that probably could have avoided all the miscommunication. Part of me wishes I could have just put my foot down instead of trying to put the pieces back together for years after. Part of me is still unsure about everything that happened, but I genuinely hope for the best for the person on the other side of the conflict. They have taught me a lot, made me an actual adult, and many times a year, their existence pops into my head. I've prayed for them and wish them the best.
That was the only conflict I've ever had with a friend, and frankly, I don't want to have another. However, having this conflict was a blessing in disguise because it made me assertive, which has helped to solidify a lot of the friendships I've had since. The issue made me grow up and stop living in a bubble of naivety.
Conflict isn't always bad. It sucks in the moment; it makes us cry and wail and wonder what we could have done better. But it's helped me become better, and we all learn from our experiences. It helped me blossom and become a more vibrant flower, with petals that are bright and kind. There is good in everything—even the bad.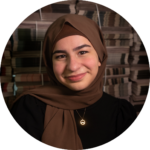 Changing Leaves Columnist (Volume 49); Managing Editor (May–November, Volume 49) — Aia is a fourth-year student studying Psychology and completing a double minor in French and Philosophy. She became a Staff Writer for The Medium in the 2021-2022 publishing year and was determined the team couldn't get rid of her so soon. In her spare time, she can be found café hopping in the hopes to find the best iced chai in the GTA, writing her weirdly complex thoughts down in her notes app, or taking a million pictures a day of her friends. Aia hopes that students find The Medium and feel the sense of belonging she has felt. You can connect with Aia on Linkedin.