Faculty Feature | "Focus on your goals, be consistent, and have a mission in mind": Professor Sarah El Cherki's recipe for success

In a world where accurate Muslim representation is scarce, Professor Cherki's ability to proudly wear her hijab has inspired many students on campus.
"Don't let anybody make you feel that you cannot [accomplish your goals] because of how you look," says University of Toronto Mississauga (UTM) Professor Sarah El Cherki. When she started her position as professor in the Institute of Communication, Culture, Information, and Technology (ICCIT) this past summer, she did not plan on becoming a role model for young Muslim women across the campus—yet here she is.
Professor Cherki states that she prefers to be called a woman who wears a hijab rather than a hijabi. In her opinion, the latter title categorizes women for their choice to wear a hijab. "We are people like everybody else, we just dress differently," she explains.
According to her, religion is an extension of oneself rather than a box to be placed into. She grew up as a Muslim in Morocco along with her family. Her parents always told her and her siblings that they could pursue any career they wanted if they worked hard. Professor Cherki expresses that religion and culture were never a barrier to her future. Instead, Islam helped her attain spiritual peace and gave her the fuel to thrive. She quotes a Hadith (a saying of the Prophet Muhammad PBUH), which states "seeking knowledge is an obligation upon every Muslim."
Inspired by the women around her—especially her mother who was a teacher—and the emphasis of education in her faith, Professor Cherki eventually moved to France to complete her Master's degree in Information Systems Engineering at Institut Mines-Télécom Business School, a business school in the suburbs of Paris. She then worked as a consultant for two years after graduating. In 2012, she moved to Quebec to complete her PhD in Information Systems, with a focus on its link to sustainability, at Laval University.
Professor Cherki chose to wear the hijab while working in France before she moved to Quebec. Amidst the rise in Islamophobia and Bill 21 (a Quebec law that restricts its residents from wearing religious symbols), Professor Cherki states that the extent of her experience in Quebec was the public staring. Regardless, she emphasizes that she felt an overall positive atmosphere from those around her.
"It does not matter what religion you are or where you are from. What matters is your input in society," Professor Cherki says regarding her experience in Canada. "[The Canadian environment] helps all talents flourish. Whether we have family support or not, being a woman in Canada is amazing."
However, while working at a consulting firm in France, Professor Cherki was once removed from a public ministry project at a client's request due to her hijab. She notes that, while her semi-public school permitted her classmates to wear a hijab, some women in other schools were forced to remove it. Despite these experiences, she remains positive and highlights that, for the most part, she was fortunate enough to not face many problems due to her religion.
Professor Cherki also stresses the importance of a good support system and role models. While completing her PhD through a pandemic, she gave birth to two children. She believes this wouldn't have been possible without the immense support from her parents, siblings, spouse, co-workers, and supervisors. Her supervisors, Jacqueline Corbett and Sehl Mellouli, constantly encouraged her and stood alongside her as she completed her final years of research remotely from Quebec during her pregnancies. Her support circle has played a large part in her strength, determination, and success.
That support carried through to her time as a faculty member of the ICCIT department at UTM. When she first visited the campus in 2019 for a sustainability conference, she fell in love with the people, the campus, and UTM's commitment to becoming more sustainable. Professor Cherki stresses the accepting and encouraging nature of her fellow faculty members and shares that she has felt very supported. "This is the best thing in a work environment: to feel comfortable and really wanted for who you are."
When she was working on her PhD, Professor Cherki declared her mission of finding and promoting responsible and sustainable innovation. She now aspires to continue this research which played a large part in her decision to move to UTM. The campus's mission of sustainability is in line with her own. Professor Cherki is currently in her first year of teaching at UTM and hopes to have a positive impact on her students and constantly evolve her teaching methods.
Whether you wear a hijab, are a young girl, a mother, or anyone else who feels that you can't be successful because of who you are or what you believe, Professor Cherki's story shows us the importance of sticking to our goals, knowing ourselves, and accepting support from those around us.
"Don't believe anybody who says that to be successful in this world you need to look [a certain way]," concludes Professor Cherki. "Choose whatever you want to be, respect that, and be consistent."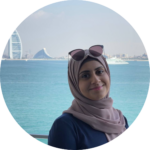 Staff Writer (Volume 48), Contributor (Volume 49) — Hamna is in her fourth year at UTM specializing in Digital Enterprise Management. Her love of reading and writing is only paralleled by her interest in random Space News and impromptu discussions about society, ethics, and technology. She writes for The Medium because she believes that one of the most beautiful elements of humanity is discourse, which she is given the opportunity to encourage through her work. In her free time she likes drinking chai, reorganizing her bookshelf, and reading complex technical books to her nieces and nephews.