Faculty Feature | Dr. Maria Cichosz transcends queer literature in her latest novel Cam & Beau

The novel tells a beautiful and tragic story of love, friendship, and drug addiction.
Set in recession-era Toronto, Dr. Maria Cichosz's novel Cam & Beau tells the story of two best friends sharing unspoken knowledge and sorrowful longing, for Cam is holding onto a secret: he is in love with his male best friend, Beau. Rather than jeopardizing their friendship, Cam keeps his longing to himself.
"It's the kind of book that I've always wanted to read," says Dr. Cichosz, a University of Toronto Mississauga (UTM) sessional lecturer in the Institute of Communication, Culture, Information and Technology department. "A queer love story that doesn't centre coming out and identity as the be-all and end-all of queer narrative." This reflection reminds readers that although coming out may be a significant event in queer people's lives, there are other stories to tell.
Dr. Cichosz joined the UTM community in the fall of 2020 and currently teaches WRI173: Creative Non-Fiction and WRI365: Editing: Principles and Practice. She's also the Fiction and Reviews Editor at Broken Pencil magazine and a Book Review Editor for the academic journal The Social History of Alcohol and Drugs. "I have a very active reading practice," she notes. "David Foster Wallace was huge for me because his work confirmed my gut conviction that writing is fundamentally not about your ego or sounding smart and clever, but about connecting with other human beings in a sincere and vulnerable way."
Published in 2020, Cam & Beau has been a decade-long project, with most of the writing taking place between 2010 and 2013. However, that was not the first time Dr. Cichosz had tried writing the novel. "[It] was my second or third time attempting to write this piece," she reflects. "I don't think I was strong enough of a writer the first time around."
With the story evolving in Toronto during a drug epidemic, the novel explores the concept of love as an addictive substance. In a previous interview with The Rumpus, Dr. Cichosz reflects on the intersectionality of inner psychological torment and drug abuse through the parallel of Cam and Beau's drug use and Cam's love for Beau. Although a story with a queer love interest, Cam & Beau is more than a queer novel where gender constrains the narrative. Themes of love, responsibility, and lasting friendships encapsulates the novel as a well-rounded theory-packed experience.
According to Dr. Cichosz, finding a publisher was a difficult and lengthy process. Cam & Beau was solely signed by Now or Never Publishing Company. To this day, there are many people wanting to get their work published, and it's important to know where to look for a publishing company that will do your work justice. When looking back at the hardships faced in the publication process, Dr. Cichosz reflects on the importance of making connections while in academic settings, especially if a future in writing is for you. "It's important to make professional connections when you have the opportunity," she explains. "You never know when someone will be able to help push your work out."
Dr. Cichosz has been in school for most of her life, spending nearly two decades in academia. "I've always been inclined toward reading and writing and putting ideas together which are the building blocks of what it would take to be a scholar long-term," she states.
After receiving her bachelor's degree at U of T with a Women's Studies specialist, an English major, and a Book and Media Studies minor, Dr. Cichosz pursued a master's degree from the Women and Gender Studies Institute at U of T's St. George campus. "I started to see how these ideas were coming together in interesting ways and felt like I had a handle on wanting to explore them at a higher level," she adds.
The master's degree was interdisciplinary in nature, giving enrolled students the opportunity to branch out to other fields of study and apply those through a Women and Gender Studies lens. Focusing on literary and visual studies work, Dr. Cichosz's thesis was about Tim Burton's The Nightmare Before Christmas. "I studied [the film] as a metaphor for tripping," she recalls. "Which was then analyzed as a metaphor for making knowledge in new and creative ways."
She later moved to the U.S. to complete a Ph.D. in Modern Thought and Literature at Stanford University. There, she faced a new set of challenges. International students residing in the U.S. are considered "nonresident aliens." These are people who don't hold a citizenship or green card. "The issue is that for nonresident aliens, your tax is withheld in advance at extremely high rates, so you get a much lower income than non-international students even though you're technically being paid the same amount," explains Dr. Cichosz. Furthermore, international students on visas can't work off-campus, making it harder for them to support themselves. "Financially, it was difficult living on just my graduate student living package without having access to other financial aid," she adds.
However, Dr. Cichosz persevered through her challenges, working through the Ph.D. program with scholars from a wide range of departments due to the interdisciplinary nature of the program. "I had the opportunity of taking my own interests and following them organically," she continues. "I focused a lot on Visual Studies, Philosophy, and Literary History." 
As a first-generation Canadian, Dr. Cichosz faced challenges on the journey to academia that are felt by many international students. She reflects on the privileges that aren't often spoken about. "I didn't realize until I got to St. George how much privilege people had that they just took for granted. Like [assuming] that everyone understands the same cultural references," she explains. People understand concepts differently based on their socioeconomic backgrounds, which is a phenomenon she has experienced first-hand.
Dr. Cichosz is currently working on other projects. Her second book titled Middlemen, is in the process of finding a publisher, while a third one titled The Protégé is being written with a Canada Council for the Arts grant. Writing a book has always been in the back of Dr. Cichosz's mind, having begun writing fiction as a child and having taken the practice more seriously in high school. While reflecting on the past years of writing, she leaves aspiring authors with one piece of advice: "If writing is what you want to do and it's for the right reasons, you just have to sit down and do it for yourself."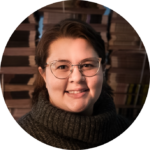 Associate Features Editor (Volume 48 & 49) — A recent graduate from UTM, Dalainey is currently working on completing her post-graduate studies in Professional Writing in Ottawa. She previously served as Staff Writer for The Medium's 47th Volume and as Associate Features Editor for Volume 48. Through her passion for languages, Dal hopes to create a fun and inviting atmosphere for readers through her contributions to the paper. When she isn't working, Dal focuses on developing digital art and writing her first novel. You can connect with Dal on her Instagram or LinkedIn.