Elvis: a not-so-accurate biopic

Is Austin Butler's charm enough? Baz Luhrmann's Elvis sparks mixed reviews.
While scrolling on TikTok a few months ago, a particular song took over my "For You Page." Doja Cat and Shonka Dukureh's voices radiated through my headphones. I'm not complaining, the song "Vegas," an original song from Baz Luhrmann's biopic Elvis (2022), was stuck in my head for weeks. It was also my first introduction to the movie. Elvis Presley had been a big part of my childhood. His songs still play faintly in the back of some of my fondest memories.
Packed with Hollywood stars, Elvis was a highly anticipated film with Austin Butler starring as the King of Rock himself. Tom Hanks joined the cast as Presley's manager, Colonel Tom Parker, and up and coming actress Olivia DeJonge played the love interest Priscilla Presley. Fresh off his Stranger Things fame, Dacre Montgomery portrayed the iconic producer Steve Binder, an influential personality in Presley's life.
The film highlighted the highs and lows of Presley's career—from his rise to fame to the whirlwind of conflicts he faced with his manager. The biopic dove into Presley's home life with Priscilla and his daughter Lisa Marie, as it illustrated how his drug addiction and unparalleled fame affected his personal life.
Austin Butler embodied Presley's character with nuance and intent, taking the time to study his mannerisms, his movements, and his piercing vocals. Produced over the course of two years, Butler perfected his performance of Presley to such a point that the actor commented on feeling as though he had lost his own voice.
The main criticism of the film is its reliability. While nobody expected Elvis to be completely accurate, some major points in the movie have been identified as completely curated. A prime example was in the scene that depicted the announcement of Robert F. Kennedy's death. In the film Presley is recording his '68 Christmas Comeback Special directed by Steve Binder. In the scene, Presley, along with the rest of the production crew, watched in shock as news anchors announced the assassination of Kennedy. However, in true historical accordance, the US Attorney General was assassinated a few weeks prior to the production of the Christmas special.
While the film was an entertaining imagining of the life of Elvis Presley, it was not entirely accurate in its telling, however, that is not uncommon in the genre of biopics. The representations come down to the creative freedom of the film's director. Although I am a fan of historically accurate depictions, I can appreciate some well-intended deviations in the name of entertainment.
Another criticism of the film relates to Presley's love interest, Priscilla. Many feel as though their true relationship was poorly portrayed. The film misrepresented key factors of the alleged abuse Priscilla faced during the marriage—such as Presley prohibiting Priscilla to have a career of her own. Such details were not thoroughly included and this left audiences wondering what more of Presley's life was omitted from the film. The age gap in the relationship was also a topic quickly skimmed over, with Presley being 24-years-old when he first started courting 14-year-old Priscilla.
While Elvis wasn't my favourite musical biopic, it is one that I would recommend for Austin Butler's impressions and costumes alone. Butler's interpretation of Presley's southern drawl through his rendition of the song "Trouble" is unmistakably Presley's soul reincarnated. Although not a completely accurate description of Elvis' life, the film is a great lens into the world of Hollywood and the downfall of the limelight.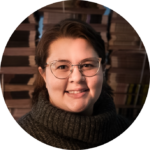 Associate Features Editor (Volume 48 & 49) — A recent graduate from UTM, Dalainey is currently working on completing her post-graduate studies in Professional Writing in Ottawa. She previously served as Staff Writer for The Medium's 47th Volume and as Associate Features Editor for Volume 48. Through her passion for languages, Dal hopes to create a fun and inviting atmosphere for readers through her contributions to the paper. When she isn't working, Dal focuses on developing digital art and writing her first novel. You can connect with Dal on her Instagram or LinkedIn.