Editorial: What you can do in a short time

"We must talk to hear an echo"—a reflection on four years in student journalism and the lessons learned.
I was recently asked if I was sad to be leaving The Medium. A year ago, after my first run as Editor-in-Chief, the answer would have been "yes." But now, writing my final contribution to the paper, I am excited to leave.
Sometime in the first two weeks of my undergrad, I realized that my classes induced an overwhelming boredom (this was before I picked up my art history major and figured out what I wanted to do with my life). So, I made the conscious decision to try everything else that university could offer. After some failed attempts to join a few clubs, I thankfully submitted my first of many articles for The Medium.
From contributing my writing in my first year, to being elected as Features Editor in my second year, and then serving as Editor-in-Chief for my final two years, my four-year journey has attested that taking on positions you are unqualified for is the way to learn quickly and achieve greatly, because imposter syndrome will put a fire under your ass (try it, trust me).
Let me explain.
In the heat of July 2021 when I was first elected as Editor-in-Chief, I checked off the first item on my to-do list: paint the murky, 90s-light-blue-coloured office walls. I felt so overwhelmed and unqualified that I did what I knew I could handle at the time—putting on overalls and a bandana, looking pretty, and slathering paint. Two days later, the spark gave off a few embers, and I added another item to the list. With each subsequent tick, my ambitions grew larger as I realized that the newspaper's legacy was in my hands (and that of my wonderful team, of course). I have Elisa, my then Managing Editor, to thank for never raising a brow at my extravagant ideas and somehow taking my "Oh My God, what if we…" as seriously as she did.
As I write my final remarks, I've edited over 1,000 articles and written more than 60, and only now, do I realize the power of what I used to call a "silly little campus newspaper." This realization doesn't come down to the recognition I've received as an editor and writer, or the feedback we've received as a publication; it's about the individual voices in those same 1,000 articles that have been given the power to speak. Somewhere in between making editorial choices, being vulnerable in Word documents, starting a podcast, forming life-lasting friends, and trying to give The Medium its biggest makeover yet, I found my voice.
—-
Four years is a short time; moments are fleeting, and after a while, the years start to blur into each other. You start to remember undergrad as a set of environments where you shared a vague number of moments with others. I owe my successes to a newsroom of unique, innovative, and hilarious people, but I've been forced to face some hard truths. My understanding of myself has been shaped by contextualizing unique perspectives of the world—to which I was exposed through the writing and storytelling of others—and being open to changing my own outlooks in response. I've learned that being a good leader means being a good listener—not passively, but actively, by adding to the conversation, shifting your understanding of a construct, or implementing change.
—-
"We must talk to hear an echo," penciled in Shivangi, my speaker relations manager as I prepared for my TEDxUofT talk. Although defining legacy and welcoming change have been common threads during my time with The Medium, it wasn't until I was given the opportunity to welcome hundreds to my world at the Isabel Bader Theatre this February that I dilated on the power of student journalism. I said, "The mountain I'm standing on is the legacy of all the past writers and editors of student publications. I've realized that each student has a legacy, one that matters, one that is unique, and one that deserves to be heard. We may not know them all just yet, but I know that student journalism will welcome each one with open arms."
To next year's team, open your arms. Through the archive, you'll learn that the publication has 55 years of told stories, and although today the landscape of student journalism is different, understanding them is the key to facing the beast of legacy in a unique way. Don't become a set of typed letters on a byline—set long-term intentions, plant the seeds of ambitious projects, and don't lose yourself among the rolodex of responsibilities. It's not easy.
At one of our two Medium Magazine launches this year a writer asked me for advice; they also asked: "how do you do it?" The answer to the second question involves a love for coffee and being an over-achiever—while the first I can synthesize in two major takeaways.
First—be a "yes" person. Let things happen. Walk through every open door. Don't limit yourself to a list of goals; be open to life's opportunities, even if they're not part of your plan. Change your major the second you find a class you don't spend fixated on the clock. Talk to professors and take their feedback. Listen. Listen. Listen. Take out your headphones. Eavesdrop on people's conversations, join those conversations, make friends. Introduce yourself to strangers, then wave at them when you see them in the halls, even if you forget their names. Say "yes" to karaoke nights and campus events—even if they seem lame. Take seminar classes, do a research placement, apply yourself. And if you're lucky, travel.
Before a recent trip to Rome, former Managing Editor Aia reminded me that the world is so much grander than this campus. The petty drama, exes, and (hopefully few) bad grades are just breadcrumbs of what transpires and who you'll meet outside these mono-coloured walls. Don't let yourself get caught up in thinking that this is it. It's not.
Second—make some enemies. There will be people who tell you that your confidence comes off as arrogance—don't listen to them; they are jealous. You'll know you're doing it right when you receive empty threats or shallow compliments. Make people angry by standing up for your beliefs and values—but stay humble and don't force anyone to join you. Make some noise. Walk away when you've outgrown people or places. Keep the people that celebrate your successes with geniality, both big and small, close. Buy them flowers when they achieve great things. Write them letters of thanks and leave sticky notes on their computers, or morning texts, telling them you love them. And most importantly, express your gratefulness.
Thank you, Reader, for four years. I'll miss growing with you, but I'm excited to start to find new places to dig my roots. My chapter at The Medium is complete, but the impact of the publication and all its intersecting threads will continue to weave the tapestry of my life. Although you won't be reading my name on these familiar bylines, every end is another beginning, so this won't be the last you hear from me. I hope I've inspired you, and I hope you find your purpose in your short time.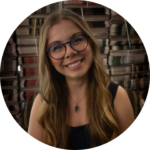 Editor-in-Chief (Volume 48 & 49) | editor@themedium.ca — Liz is completing a double major in Chemistry and Art History. She previously served as Features Editor for Volume 47, and Editor-in-Chief for Volume 48. Liz is extremely excited to have spent her time as an undergrad at The Medium, and can't wait to inspire others and be inspired in her final year at UTM. When she's not studying, working, writing, or editing countless articles, you can find her singing Motown hits at her piano, going on long walks by the lake, or listening to music. You can connect with Liz on her website, Instagram, or LinkedIn.