Decolonizing epidemiology

Dr. Raza Kolb discusses the history of epidemiology in Epidemic Empire: Colonialism, Contagion, and Terror 1817-2020.
While studying in New York on September 11, 2001, college student Anjuli Fatima Raza Kolb watched the news as planes hit the World Trade Center. Following the terrorist attacks, she became interested in connecting the dots between her own lived experiences and the hate that was happening after 9/11 to colonial history. "As an American Muslim, I immediately noticed how clearly the discourse of Islamophobia was overlapping with what I was learning about colonial racism and hatred," she recalls.
Twenty-one years later, Dr. Kolb is an associate professor in the English Department at the University of Toronto Mississauga. Her courses discuss decolonization and feminist theory through literature. For instance, in ENG371: Living a Feminist Life: Archive, Text, Action, she highlights the importance of writing from the perspective of shared histories. "I love teaching [this course]," states Dr. Kolb. "It helps us think about how porous the boundaries are between reading and doing."
The course deconstructs ideologies about what we can learn from sources that aren't perceived as academic. "There are ways in which universities tell especially women, femmes, and non-binary people that academia looks a certain way, is based in text, and comes from these big European male thinkers," explains Dr. Kolb. "Mothers, friends, aunties, the people who raised us—all these forms of femme labour and care that are squelched in university-level discourse and not traditionally upheld in academia as forms of genius."
Dr. Kolb's research focuses on the methods of post-colonial criticisms and theory. She centers on the literature of cultural production and political history of decolonizing nations, and the colonial powers that held them in hegemony for multiple centuries. In particular, the development of science and the ways of knowing under colonial modesties and how those have impacted the infrastructure and disciplines as they developed in a colonial sphere.
The convergence between science and colonialist structures led to Dr. Kolb's first book, titled Epidemic Empire: Colonialism, Contagion, and Terror 1817-2020. Published in 2021 by The University of Chicago Press, the book discusses the history of epidemiology as it relates to race and religion largely in the British and French colonies of South Asia and North Africa. "I have always been interested in the ways that medicine can help, but also in the ways that it can have racist and ablest underpinnings in this kind of colonial sphere," says Dr. Kolb.
Having been raised by a family of doctors, she grew up surrounded by medical discourse. "There was a lot of resistance around the question of this research being a literary project as it heavily relies on science," recalls Dr. Kolb, "However, I had some professors who saw something radical and revolutionary in my work, so I [called them] when I felt I was getting too much push back from senior colleagues in my field."
Reflecting on the publication process, she saw pressure to "whiten" the project by using white European texts as there were claims it would make the research more legible. This continues now, even after her work has been published. While she uses sources not traditionally used in academia, Dr. Kolb highlights the importance of non-white perspectives and lived experiences—especially in the context of decolonization. "Although there were haters along the way that were dispiriting at some points, [they] helped me build my community and find the people who were interested in my ideas, and whose ideas were exciting to me," she says.

In a brand-new course for English Specialists and Majors titled ENG400: Capstone Seminar: Writing a Research Project, Dr. Kolb addresses how scholars are stuck in the past and focuses on the greatest works in contemporary theory. Students from all different backgrounds and interests come together and question how to write academic research in a way that speaks to the problems of the present—one that has a rigorous base in historicist literary scholarship. "It is important to me to address the fact that we haven't updated our sense of what is cutting-edge scholarship and there is still a lot of focus on the white Euro-American traditions," she explains. "I don't think it's an accident that a lot of that comes from Black studies."
Dr. Kolb has several projects underway. She's currently working on a book about water and special commodities, as well as a series of books on the history of the natural sciences in the eighteenth century. A collection of poetry is also in works. Her passion for poetry is highlighted in Epidemic Empire: Colonialism, Contagion, and Terror 1817-2020 with the inclusion of translated Urdu poetry as a source for highlighting the colonialist wrongs of medicine. "I also publish researched poetry which is a place for me to put research that doesn't have an argumentative arc but does, I think, have a productive conversational arc," she concludes.
Dr. Kolb encourages students with any comments or questions about Epidemic Empire: Colonialism, Contagion, and Terror 1817-2020 or other related topics to reach out through email at anjuli.razakolb@utoronto.ca or through Twitter @anjulifatima.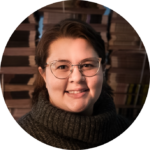 Associate Features Editor (Volume 48 & 49) — A recent graduate from UTM, Dalainey is currently working on completing her post-graduate studies in Professional Writing in Ottawa. She previously served as Staff Writer for The Medium's 47th Volume and as Associate Features Editor for Volume 48. Through her passion for languages, Dal hopes to create a fun and inviting atmosphere for readers through her contributions to the paper. When she isn't working, Dal focuses on developing digital art and writing her first novel. You can connect with Dal on her Instagram or LinkedIn.