Dear Canadian women, thank you

A list of women who have played a huge role in the foundation and development of our nation and society as we know it today.
Women, through their willpower, strength, and unwavering efforts, have built the foundation of our nation today. Here is a short list of influential Canadian women in history.
Viola Desmond (1914-1965) challenged segregation practices in Nova Scotia through her strong-held refusal to be moved to another section of a movie theatre. She was arrested and jailed overnight without legal representation, convicted for defrauding the provincial government. As her unwavering stance on racial equality stood, Desmond fuelled the beginning of the end of segregation.
Doris Anderson (1921-2007) was a columnist and editor of the women's magazine Chatelaine. Through the 1960s, Anderson pushed for the creation of the Royal Commission on the Status of Women, which paved the way for women's equality. Anderson was also responsible for getting women rights included in the Charter of Rights and Freedoms.
Marie Lacoste Gérin-Lajoie (1867-1945) was a driving force behind women's access to higher education in Quebec. As she was forced to educate herself through her father's library because Quebec's francophone universities did not admit women, she established a girls' school in 1908 to ensure young women could attain higher education if they wished. As the woman behind the Fédération Nationale Saint-Jean-Baptiste, she advocated for women's education, equity under the law, voting rights, and more. She continued to advocate for the feminist movement in the Quiet Revolution, and independently educated women on their rights and duties.
Jean B. Lumb (1919-2002) successfully lobbied to protect Toronto's Chinatown from expropriation in the 1960s, and went on to the be the first Chinese-Canadian woman inducted into the Order of Canada. She played a critical role in ending discriminatory immigration laws against Asian permanent residents in Canada, such as the Chinese Exclusion Act, and the Chinese Head Tax.
Kim Campbell was the first and only female prime minister of Canada so far. She also served as the first female Minister of National Defence, and of Veterans Affairs. Campbell not only served as a great leader for the nation in 1993, but she also served as a role model for women of the nation, being the first to hold many political positions that were typically male-dominated.
Roberta Bondar was the first female Canadian astronaut sent into space and pioneer in space medicine research. Not to mention, she is also a University of Toronto Mississauga alumna. She created the Roberta Bondar Foundation to advocate for the environment through art and photography.
Elsie Knott, an Ojibwa woman and member of Mud Lake Reserve (now, Curve Lake First Nation) in Ontario was the first woman elected as chief of a First Nation community in Canada. As Knott was faced with difficulties in this position due to her gender and language barrier, she enforced a language program at the Curve Lake First Nation School and taught weekly Ojibwe language classes to help the youth. She also founded the Knott Bus Service to improve and ensure transportation and access to education for Indigenous families.
Mary Two-Axe Earley (1911-1996) was an Indigenous woman that challenged laws of discrimination against First Nations women. After losing her Indian status for marrying a non-Indigenous man, she was barred from returning to the reserve after she was widowed, sparking her lobby to have the discriminatory law reversed. In 1985, Earley was successful in her fight and helped over 16,000 women and 46,000 first generation descendants be reacquainted with their reserves.
Whether it was the Famous Five, who advocated for women's rights and empowered women to be appointed into senate, or Yvonne Brill, who contributed to rocket systems that powered the first weather satellite, women in Canadian history have played a massive role in shaping the nation as we know it today. So, how might your actions change the world?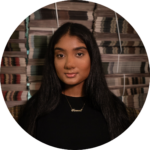 Opinion Editor (Volume 49) | opinion@themedium.ca — Kareena is a third-year student completing a double-major in Criminology and Socio-Legal Studies and Philosophy, and minoring in Forensic Science. She has previously served as the Associate Opinion Editor for Volume 48. Through her involvement and contributions with The Medium, Kareena hopes to foster a safe and trusted space, while encouraging others to let their voices and stories be heard. When Kareena is not writing or studying, you can find her watching true crime mysteries or cooking.