Dear 2022

As the new year rolls in with a fresh slate of hope globally and locally, it is important that we reflect on past issues to inform our projected goals
As we ring in the new year, we are all hopeful that 2022 will bring positive advancements and fulfill great things. Looking back at the most recent year, huge progress has been made, such as the introduction of the Covid-19 vaccine, but along with these advancements, came many shortfalls, which we can use to inform our goals for 2022.
As seen in 2021, one thing we were heavily focused on globally was giving everyone a chance to get vaccinated. Although we made great progress in this mission in Canada, many countries of lower economic standing struggled with getting enough vaccines for their nation. This issue was partly the cause of the genesis of the now widespread variant, Omicron. In South Africa, the vaccination rate in some areas was below ten percent, merely because of the lack of access to resources.
To combat this in 2022, Western and East Asian nations can work harder to share resources with these nations. "The problem in resolving vaccine inequity are wide and varied. They include increasing the supply in resource-poor areas, and not just vaccines that have been "generously donated" just as they are about to expire," states University of Southampton's Senior Research Fellow Michael Head in an opinion piece for Scientific American. If 2022 can hold more equality in its sharing of vaccines, further potential healthcare crises can be avoided and can support other nations in the global fight against Covid-19.
2022 brings a new shard of hope for global warming and climate change as well. In recent years, we have seen great improvements in worldwide policies aiming to lower carbon emissions. With Canada's anticipated plan to reach Net-Zero, amongst many other plans, the future by 2030 is looking bright with anticipated emission reductions by 30 to 45 per cent. On a smaller scale, University of Toronto Mississauga (UTM) is also committing itself to an action plan to make for a cleaner and greener environment by 2030. With continuous changes to its utilities, such as its upgrade to HVAC systems in numerous buildings, UTM has clear goals on how they are planning to lower greenhouse gas emissions by 2030. In 2022, the stability of this plan and its execution looks promising.
Last year, Canada also came face-to-face with many important, nation-changing events that we simply cannot leave in 2021. The discovery of Indigenous mass graves in British Columbia is a monumental and heartbreaking truth that we can no longer ignore. This year holds much more room for reconciliation and justice for Indigenous families and communities. We must continue to acknowledge and advocate for these moments of healing. As the nation has made progress in this area, it was merely just a start and we must continue to educate the public, and support and stand with Indigenous communities.
In the same vein, Indigenous communities that were faced with a lack of clean drinking water in 2021 should be addressed this year. Although the nation has outlined an action plan on how they plan to mend this problem, 2021 showed that these communities are still struggling with this issue. In 2022, we can strive to fix this by being more assertive and demanding that this plan be followed through in an urgent manner, or remodel the plan to address this problem expeditiously.
As these are just a few goals for the year out of an endless list, there is still hope to get many of these resolved. But, as we continue to look ahead into the new year and what we hope it may bring, we must also take into consideration the past and learn from it. As we all continue to play our active role in pushing for these changes and support action plans, it must still be acknowledged that things do not always go exactly as planned. But, nonetheless, even if we cannot stick to a perfectly linear plan, steps in the right direction and progress are most important. This year, our biggest goal is to stay safe and healthy, and to address all of the issues and inequalities that we have in our world.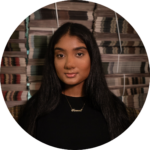 Opinion Editor (Volume 49) | opinion@themedium.ca — Kareena is a third-year student completing a double-major in Criminology and Socio-Legal Studies and Philosophy, and minoring in Forensic Science. She has previously served as the Associate Opinion Editor for Volume 48. Through her involvement and contributions with The Medium, Kareena hopes to foster a safe and trusted space, while encouraging others to let their voices and stories be heard. When Kareena is not writing or studying, you can find her watching true crime mysteries or cooking.