Dawn FM—The Weeknd is saving pop, one album at a time

The singer-songwriter is back with a dark twist on the classic '80s sound.
Abel Tesfaye's (The Weeknd) fifth studio album Dawn FM was released on January 7 and serves as a more experiential and conceptual follow-up to his preceding album, After Hours, which conceived singles like "Blinding Lights" and "Heartless."
As a follow-up to After Hours, Dawn FM burrows deeper into The Weeknd's artistic influences and aspirations, striving toward a more thematically complete album rather than one driven by hit singles.
The album's instrumentation moves decidedly in the direction of '80s disco-pop, with sugary chord progressions and electropop drumbeats. The vocals and melodic structures drive the songs forward and it is easy to hear Michael Jackson or Daft Punk peeking out from behind the arrangements.
The Weeknd worked alongside Swedish record producer Max Martin—who is secretly responsible for some of pop's biggest hits, including Britany Spears' "…Baby One More Time" and The Backstreet Boys' "I Want It That Way"—and Daniel Lopatin, an American experimental electronic music composer whose more commonly recognized to stereo heads as Oneohtrix Point Never.
The album stands as a testament to The Weeknd's admiration for '80s disco-pop but repurposes the genre by subverting the spacey, fluorescent instrumentation with dark, sobering lyrical content. The pulsing drums and atmospheric synths contend with lyrics that continuously stumble upon a gloomy revelation—be it sobriety, romance, or existence.
"Gasoline," the album's second track, outlines the emotional turmoil and existential uncertainty of an early morning comedown: "It's 5am I'm high again/I've fallen into emptiness/I'm staring into the abyss/I'm dozing off to R.E.M/I'm trying not to lose my faith."
This existential preoccupation is firm in songs like "Take My Breath," which teases out themes of emotional and sexual arousal at the risk of death with lyrics like "I know temptation is the devil in disguise/You risk it all to feel alive," or "You're way too young to end your life/Girl, I don't wanna be the one who pays the price."
The darker hedonistic themes of the album revolve around the more dominant transitionary theme of purgatory and self-acceptance. While many of the album's stronger songs appear in the first half and are songs of indulgence and pleasure, the latter half of the album deepens those earlier themes by reflecting critically upon them.
The final track "Phantom Regret by Jim" perfectly caps off the album's myriad of gloomy and expressive themes as Jim Carrey reads a poem about moving forward from the past with lines like: "Heaven's for those who let go of regret/and you have to wait here when you're not all there yet."
This resolution is spoken over a soft electronic accompaniment that serves to unwind the tense music as Carrey's poem unpacks the darker preoccupations of the album, ending with the line: "You gotta be Heaven to see Heaven/May peace be with you."
Dawn FM's structure recalls the nostalgic era of radio where uninterrupted musical sequences were a rarity, however, the structural design is not as effective or intentional as others albums—such as Vince Staples' FM!, which used its structural element to formulate its thematic content.

In Dawn FM, The Weeknd continues his search for the perfect pop record, diving even deeper into the '80s sound that sugar-coated After Hours. Conceptually complete and sonically refined, Dawn FM proves again that The Weeknd is pop's only hope of being resurrected from the corporate-grave that public opinion has confined it to.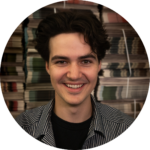 Copy Editor (Volume 49) | aidan@themedium.ca —Aidan is completing a major in Professional Writing and Communications at the University of Toronto Mississauga. He previously worked as the Associate Editor for the Arts and Entertainment section of The Medium, and currently works as the Copy Editor for The Medium. When he's not catching up on course work or thumbing through style guides, Aidan spends his free time exercising (begrudgingly), singing (unmelodically), and trying (helplessly) to read David Foster Wallace's Infinite Jest. The latter of which has taken 3 years to reach the 16th page. You can connect with Aidan at aidan@themedium.ca.