Community on Campus: Highlighting UTM's Indigenous Centre

Through its efforts to promote inclusivity and learning, the Indigenous Centre strives to become a place where all members of the community can engage in reconciliation.
When the Wecheehetawin Report was released in January 2017, one of its prevailing themes was the lack of dedicated Indigenous spaces on all three campuses of the University of Toronto. The report—written in collaboration with Indigenous Elders, faculty, staff, and students—specifically mentioned the University of Toronto Mississauga (UTM) as a potential area for improvement because of its links with the Mississaugas of the Credit First Nations.
UTM's Indigenous Centre opened later that year to consolidate Indigenous resources. "While there has always been a level of Indigenous services at UTM," says Tee Duke, the UTM Assistant Director of Indigenous Initiatives, "the Centre was established as a way of pulling these services together in a coordinated and intentional way."
The Indigenous Centre has served to promote a supportive environment for UTM's Indigenous community. The Centre offers opportunities for non-Indigenous members of the community to learn diverse Indigenous traditions—creating a space for productive and inclusive discussion.
The Indigenous Centre represents one of many advancements made by UTM to engage in reconciliation, both on- and off-campus. For Duke, this is a propelling force in ensuring the success of the Indigenous Centre's initiatives. "Indigenous community development has always been at the forefront of our work, not only at UTM but external to the university," she explains.
The Indigenous Centre has continuously extended a warm welcome to all UTM staff, students, and faculty—not just the Indigenous community. The involvement of all students, regardless of background, is encouraged. They believe this is integral to creating an "intercultural dialogue"—essential to reconciliation efforts. To this end, the Indigenous Centre has offered many programs such as curriculum resources and "Learning Circles," an initiative developed to allow students to learn about Indigenous knowledge. Open to all U of T members, the Indigenous Centre also hosts weekly events to further initiate active involvement. Those include "Fresh Food Mondays," held at the First Nations House at St. George where fresh produce is available for U of T Indigenous students.
The Centre begun the 2022-2023 school year with its first event—the Meet and Greet and Tipi Raising—in front of the Maanjiwe Nendamowinan building on September 13, 2022. The event was well-attended and invited both Indigenous and non-Indigenous members of UTM to gather, socialize, and ask questions. "We were able to bring community together and share the work we do within the centre," says Jessica Tabak, the Indigenous Student Support Specialist at the Indigenous Centre.
On September 26, the Indigenous Centre will deliver a virtual tour of the Mohawk Institute Residential School. Participants will follow a guided virtual tour of the house, going over the history of the school, and hearing testimonies from five survivors.
In honour of Orange Shirt Day this upcoming September 30, 2022, the Indigenous Centre compiled a list of resources for students to self-educate. The list includes movies, podcasts, books, documentaries, and suggested topics to initiate meaningful conversations. One such resource recommended by Tabak as a jumping off point, consists of the Wecheehetowin Report. "[The report] is a guiding tool for Indigenous and non-Indigenous folks to use for guidance. We are all responsible for mobilizing reconciliation," explains Tabak.
For more events from the Centre, Duke advises students to keep an eye on their website, as they have more plans for the future. "[We] are planning more land-based learning [and] programming through our newly raised Tipi and utilizing Hart House Farm for future opportunities."
Since the Indigenous Centre's opening, there has been a significant increase in Indigenous engagement and community development. "Not only do we have more Indigenous faculty [and] staff at UTM, but we continue to connect and support more Indigenous students," shares Duke.
The Indigenous Centre can serve as a guide for students to become active members in reconciliation. The responsibility we all bear does not end when we leave campus, a notion that Duke makes clear. Dedicated to fostering an inclusive environment, Duke concludes by saying, "We are very proud and dedicated Indigenous community members ourselves and ultimately, we are always working for our community in [and] out of the Centre's work—we volunteer at Indigenous agencies, we sit on Indigenous Organization boards, we attend Indigenous cultural events [and] activities, and we are robust advocators for our community—anything we can do to support and make our community members feel safe and welcome—we are there."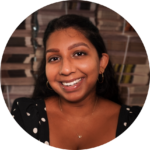 Staff Writer (Volume 48 & 49) — Hema is currently in her final year, finishing a double major in Linguistics and French Language Teaching and Learning. She previously served as a Staff Writer for Volume 48 of The Medium. Her favourite part of writing is the opportunity to research new topics, speak to new people, and make her voice heard, and she hopes that her articles can spark this interest in other students. In her spare time, you can find her in bed reading with a cup of coffee (and she's always looking for more book recommendations!).