Changing Leaves: My first paid job
A year ago, I got my first paid job—special projects coordinator at the University of Toronto Mississauga Students' Union (UTMSU). Honestly, I enjoyed my position for the better part of the year—revelling in the new faces and names that came my way.
Before working at the UTMSU, I did volunteer work and an unpaid internship, never hearing back from any jobs I had applied for. So, when I finally became employed, it felt like my definitive entry into adulthood. The leaves were changing once again, and I was aging alongside the trees. I felt overwhelmingly mature.
I remember the night I applied to the vice-president internal associate position. It was a day or two before the deadline, and I faced an emotional loss in the days leading up to it. I knew I needed to find purpose and use this growing emptiness as a motive to fill it with my own endeavours and accomplishments. I applied but didn't expect to hear back.
I was interviewed for the job shortly after and was offered an alternative position. Although I didn't get the job I was initially hoping for, I found good friendships in my new role—I found the group of people I hang out with now. The job forced me to engage with new people and—weirdly enough—spend time in the William G. Davis building on the University of Toronto Mississauga campus. I also learned something new about myself: I hate tabling and will never do it another day in my life (under any circumstance will you ever catch me going up to random people to advertise events).
Much has changed since this phase of my life, including me becoming Managing Editor at The Medium. I'm grateful for working with the UTMSU because doing so helped create the experience needed to secure new adventures. It helped me understand that any work can be good work, and that everything that happens is meant to prepare you for the next phase of your life. Every job, every hardship, every heartbreak, happens for a reason—cliché, I know. I'm curious to see what this phase of my life will prepare me for. Most importantly though, I'm hoping second semester is easier than this one. Of course, you'll be the first to know of my emotional stability from January to April.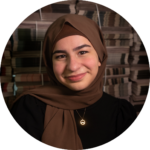 Changing Leaves Columnist (Volume 49); Managing Editor (May–November, Volume 49) — Aia is a fourth-year student studying Psychology and completing a double minor in French and Philosophy. She became a Staff Writer for The Medium in the 2021-2022 publishing year and was determined the team couldn't get rid of her so soon. In her spare time, she can be found café hopping in the hopes to find the best iced chai in the GTA, writing her weirdly complex thoughts down in her notes app, or taking a million pictures a day of her friends. Aia hopes that students find The Medium and feel the sense of belonging she has felt. You can connect with Aia on Linkedin.