Yes, I have a small business and no, it's not all glamour

Being a small business owner does not mean you're a millionaire.
My name is Hannah. I'm a third-year student at the University of Toronto Mississauga (UTM) and a small business owner. I own The Aesthetics Studio, an online shop where I sell stickers and stationery products featuring my designs. I've been running my small business for over two years now, and it's a great part-time job. But it's just that though—a part-time job.
Being a small business owner while trying to find the work-life balance as a full-time university student isn't all glamour and money. It's a lot of work without clear direction. You don't have a supervisor telling you what you do or how to fix something if you screw up a task. You're on your own. Of course, this means you get all the freedom to make decisions, but this comes with ramifications people don't realize.
When I wanted to use my business as a client for a group project in CCT356: Online Advertising and Marketing, my professor asked me, "It seems like your business is doing quite well, […] why do you think The Aesthetics Studio should be your group's client?" Too often, when people see my business' follower count, they immediately think I'm doing well. They assume I must be getting hundreds of sales. My business does make a steady income, but it's not enough to make a living. It's just some extra pocket money, and sometimes I wish others knew that.
I'm not trying to dissuade anyone from starting a business. I love being a small business owner and I love making stationery. It's great for those that want to try out being business owners. There's so much to learn from entrepreneurship and there are fantastic programs out there like ICUBE at UTM, which offers resources on how you can get started with your business.
I just want people to realize that there are many types of small businesses—from seasonal artists who only participate in a few vendor events a year, to people with a dozen employees who have their own storefronts. You can think of "small business" as an umbrella term that incorporates a wide range of businesses. No two small businesses are alike, and we shouldn't be forming assumptions about them either.
I recently attended UTM's Digital Enterprise Management's Small Business Market event on November 24, 2022. It was the first time I tabled at a vendor event. It was a great event but there was so much I didn't prepare for and so much I could've done differently. That's the thing with being a small business owner though: there are always new things to learn.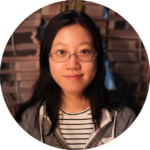 Staff Writer (Volume 49) — Hannah is a third-year student double majoring in Communications, Culture, Information and Technology and Professional Writing and Communications. In her spare time, Hannah can be found running her sticker shop The Aesthetics Studio and listening to true crime podcasts while drawing. Hannah's previous publications include UTM's Professional Writing and Communication official journal of creative non-fiction Mindwaves Vol. 15 and research in Compass Vol. 9. Hannah was also an associate editor for Compass Vol. 9. Find Hannah on Instagram and LinkedIn.