Changing Leaves: A brand new season
Changing Leaves is a conversation between the reader and I. These short entries will serve two purposes: to allow me to express my thoughts and experiences, and to encourage you to feel all your feelings. Consider this a safe space for mutual growth, introspection, and understanding.
For the next year, bi-weekly, you and I will talk about matters of the heart and conflicts of the mind. We'll talk about love and loss, discovering identity, and the moment I realized I was finally an adult because the food I made became partly edible. Throughout the year, we'll discuss how moving to Canada has impacted how I approach the workplace and relationships, how to navigate the UTM social scene, and what it means to be a Muslim woman in a Western society. I will open up in hopes that it allows you to welcome the seasons changing—only through acceptance can we start to become our truest, happiest selves. Summer will end, and we will feel the effects of fall, winter, and spring together. It can be scary to see the leaves fall and new ones grow, but we can do it together.
I invite you to imagine yourself sitting on the field in front of the Maanjiwe Nendamowinan (MN) building, witnessing the seasons come and go. Soon, the leaves will turn bright orange and red, and then they will crumble and fall, leaving room for new beautiful, green beginnings. Just like the changing of the leaves, and the addition of new greenery, our lives will blossom with each year. 

I encourage you to email me at managing@themedium.ca to share your thoughts on life's colours of growth, recovery, loss—or anything else that is close to your heart. Let's welcome the season's change together. Feel free to shoot me a topic idea, or question you think is important for discussion—I will always answer.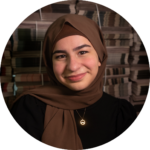 Changing Leaves Columnist (Volume 49); Managing Editor (May–November, Volume 49) — Aia is a fourth-year student studying Psychology and completing a double minor in French and Philosophy. She became a Staff Writer for The Medium in the 2021-2022 publishing year and was determined the team couldn't get rid of her so soon. In her spare time, she can be found café hopping in the hopes to find the best iced chai in the GTA, writing her weirdly complex thoughts down in her notes app, or taking a million pictures a day of her friends. Aia hopes that students find The Medium and feel the sense of belonging she has felt. You can connect with Aia on Linkedin.