A survival guide: how to excel as a first-year student at UTM

"Beginning university is supposed to be one of the most exciting periods of your life!" or so they say.
We often hear that university is supposed to be one of the most exciting periods of our lives. But for many, beginning university evokes anxiety and fear. In light of this, here are some tips on how to get through your first year, from someone who has done it before.
Get a calendar
Organizing work and leisure time helps you stay on top of hectic university life, especially as someone experiencing it for the first time. The transition from following a clear daily routine in high school to having free days in the middle of the week and sometimes, only one lecture a day can feel confusing at first. Whether you prefer an online app or a good old paper log, make a calendar to note all of your important deadlines and events. I prefer online calendars like Google Calendar, Microsoft Outlook Calendar, and Apple Calendar, or apps like Notion and Obsidian with calendar templates to keep track of your assignments and social gatherings.
Choose a note-taking system that works best for you
You'll notice that most University of Toronto Mississauga (UTM) students prefer typing their notes on a laptop, but you may benefit more from writing them down by hand. If you feel like hand-writing your notes helps you memorize information more efficiently, do not hold yourself back from buying all kinds of colourful highlighters and gel pens. On the other hand, if your lectures demand quick note-taking, stick to apps like Notion, Evernote, Microsoft OneNote, Apple Notes, or any other alternative. Make sure to pick the one that feels most effective and convenient to you.
Book a meeting with your academic advisor
A meeting with an academic advisor or career counsellor can clarify your potential future both at UTM, and after graduation. Many students begin their first year with no knowledge of the Program of Studies (POSt) system, and the complicated coordination of course enrolment. I know quite a few students who, just like me, struggled with questions like how many credits you need for a specialist versus a major or minor, or what each program type means. To avoid feeling unprepared, book a meeting with an advisor at the Office of the Registrat as early as possible to understand program selection. And don't be afraid to drop a course or change your program. The sooner, the better.
Find your "people"
Finding your support group will help you get through university. Friends who understand and relate to you can be helpful during difficult times like midterms and exams. If meeting new people comes to you naturally, making friends will be easy. But, if you are more of an introvert, like me, check out my next tip. And remember, choose your friends wisely. Stick with the people who push you to improve, both inside and outside the classroom.
Participate in activities organized by UTM and your faculty
University is as much about networking as it is about studying. Events and student societies not only bring good friends but also useful connections. Talk to people you find engaging—including your professors. Find out what they do and whether you can join their projects. With new acquaintances in lecture halls or at club meetings, you can simply exchange social media handles to contact them later. Attending UTM activities almost guarantees that you will talk to at least a few people, which is an easy way to make friends without having to approach anyone.
Take good care of your mental health
Finally, never forget to take care of your mental health. Use your calendar to schedule a day, or even a few hours each day for self-care. Take a relaxed hike along the UTM nature trail, have a hot bath, watch a feel-good movie, read a book, or take a trip to downtown Toronto. During my first year, I made the mistake of working non-stop and ended up both mentally and physically exhausted by final exam season. Don't try to do it all at once, even if you think you can. A breath of fresh air or a simple meal will help recharge your energy before tuning into another hour of hard work.
Many UTM students experience moments of struggle during their first year. Be confident and remember that it is okay to have a hard time in a new environment. Take advantage of your network of new friends and professors, and try to make your study days as fun as you can.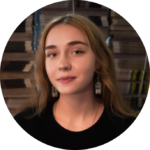 Associate Features Editor (Volume 49) — Olga is a second-year student studying Professional Writing and Communications and completing a double minor in French and Environmental Management. She joined The Medium this year as an Associate Features Editor and is excited to start connecting with many interesting people for her interviews. In her spare time, you can find her taking long mental-health walks around UTM's campus and listening to Harry Styles' latest album. Olga hopes the students of UTM will be able to see themselves in her articles and relate to the stories of her interviewees.