Champions of Change advocates for women and children in communities around the world

The club aims to educate and reduce international inequalities
When Marah Mufleh was in her second year at the University of Toronto Mississauga (UTM), she reached out to friends and fellow students on Instagram about starting a new club on campus. Her plan was to begin a student-lead initiative under Plan International Canada (PIC), a non-profit organization that focuses on children's rights. In December 2020, Mufleh launched Champions of Change, a Plan Canada chapter that raises awareness and funds for campaigns that support those who need it most.
"I've always been the type of person to look at different ways to help the people around me," says Mufleh, who majors in Communication, Culture, Information & Technology and double minors in Sociology and Professional Writing and Communication. "Helping people is like second nature to me."
Mufleh first heard about Plan International Canada in 2018 after seeing a call for volunteers for their Defy Normal campaign. Among its many initiatives, PIC educates communities around the world on the challenges vulnerable children face. These include food insecurity and water poverty. They also provide reproductive health access and period products to young girls worldwide. Having been active for more than 80 years, PIC holds a sponsorship program that aids African children in need. This program helps them achieve academic success, and gives them access to school meal programs, and physical and mental health care.
Organizations such as PIC ensure a brighter future for children around the world. They encourage community members to participate in life-changing programs. "I learned that they have a campaign for students to run their own subchapters with their support," continues Mufleh.
Plan International Canada offers support for independently ran chapters in elementary schools, high schools, and universities, as well as general chapters for cities. These chapters receive a lot of support and merchandise from PIC to help with fundraising and encourage member participation. "They [act as] our advisors," explains Mufleh. "We always have an open line of communication. Whenever we have any questions, they are there to support us."
The pandemic has caused uncertainties for UTM groups, having led many to see a decline in member participation. However, Champions of Change has seen a strong interest in participation from students with both in-person and online events. "I know a lot of clubs are struggling online to get people active and involved in their initiatives," says Mufleh. "But we are so grateful for the commitment our members have made over the last year, especially considering our club began at the height of the pandemic."
According to Mufleh, Champions of Change hold events that balance fun and educational components. They promote the rights of children and equality for girls around the world, in honour of PIC's mission. "Over the last year, we have had events that ranged from Kahoot nights to educate our members of certain inequities around the world, [to] some more relaxed and fun events like virtual escape rooms," she adds.
The club has held two in-person events since its inception, including a billiards night and another one named Under the Stars. "It was an amazing social night," reflects Mufleh. "Our members met at Jack Darling Park in the fall. We got to know each other with music, food, and stargazing."
One of the club's largest initiatives was Backpack for Kids, a backpack drive for the Peel Children's Aid Society. "We collected donations and school essentials to give backpacks filled with school supplies to help children in low-income families get excited for school," explains Mufleh. Initiatives like these encourage children to stay in school, and aid in stress-relief for parents who can't afford school supplies.
Another initiative lead by the group focused on bringing access to menstrual health resources and education on reproductive rights to girls in Bolivia. A similar fundraiser focusing on access to menstrual products raised funds for NISA Homes, a not-for-profit charity that supports women and children who are seeking asylum from poverty and domestic violence.
The winter semester holds many exciting events for Champions of Change, with fundraisers and a panelist event in the works. "Everything is subject to change with the Covid-19 guidelines changing," says Mufleh. "However, we hope to bring fun and educational activities to UTM in the winter semester, specifically focusing on community education and period inequality."
Period inequality is an issue that affects women all around the world. It is upheld by the lack of access to credible reproductive health education and menstrual products, as well as taboo ideologies like menstruation cycles being unsanitary or dirty. These inequalities have prompted social movements to promote accessible healthcare for women. Originally stemming from a feminist movement to eliminate taxes on menstrual products, the menstrual equity movement has broadened a push for updated research on menstrual health, as well as advocacy for reproductive education for girls around the world.
Mufleh and the rest of the UTM Champions of Change executive team recently launched a General Membership Program, encouraging students and community members to join the club. Members are encouraged to pitch their own initiatives for community events and learn about the steps needed to organize such events. "We have accomplished so much through the year, but I know with our growing members we can do so much more," concludes Mufleh.
To learn more about UTM's Champions of Change, visit their Instagram @championsofchangeutm and stay updated on their latest campus initiatives.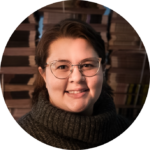 Associate Features Editor (Volume 48 & 49) — A recent graduate from UTM, Dalainey is currently working on completing her post-graduate studies in Professional Writing in Ottawa. She previously served as Staff Writer for The Medium's 47th Volume and as Associate Features Editor for Volume 48. Through her passion for languages, Dal hopes to create a fun and inviting atmosphere for readers through her contributions to the paper. When she isn't working, Dal focuses on developing digital art and writing her first novel. You can connect with Dal on her Instagram or LinkedIn.