British Columbia's floods are another example of the persisting climate change crisis

The provincial government's response has been to deflect blame and avoid responsibility, instead of providing adequate assistance and implementing climate change policies.
Last week, British Columbia was walloped with a devastating and deadly "once-in-a-century weather event." Since November 13, severe rainfall and early-season mountain snow resulted in an "atmospheric river." Almost a month's worth of rain fell within 24 hours. The damage was so severe that Coquihalla Highway, which connects Vancouver to the rest of the province, crumbled, isolation the city by road as of November 15. Now, a state of emergency has been declared by the province. This catastrophic event is a clear indicator of what happens when climate change isn't taken seriously.
"18,000 people are yet to return to their homes," and "thousands of farm animals have died and many more remain trapped by the flood waters," reports BBC. The raging wildfires in British Columbia earlier this year eradicated the necessary amounts of soil and trees to hold certain amounts of water. About 600 people died from the extreme heatwave as well.
The steep roads and terrain of Vancouver coupled with the after-effects of the wildfires resulted in mudslides and destruction of property like never before. So much so that multiple highways were cut off, including the Trans-Canada Highway which was completely submerged by water. A woman was killed due to one of these landslides, "officials expect more fatalities," and two people are reportedly missing
First fires, now floods. How many more disasters need to happen for leaders and sceptics to understand that this is the effect of neglecting to address climate change. Yes, the sudden change from hot to cold, from fire to water, from summer to winter is all climate change. This is not normal.
Cars in from the Merritt community near Vancouver were seen floating down the waters and all residents were ordered to evacuate. Hundreds of people were trapped and cut off in Agassiz, a town about a hundred kilometres east of Vancouver. Helicopters were needed for rescue. Abbotsford residents were told to flee because the floods and the slides posed a "significant risk to life."
The Canadian Armed Forces and helicopters have been called in to provide aid to those stranded by the floods by providing food and assistance to evacuate.
"As we warm up the atmosphere, as we warm up the oceans – more water is evaporated from the oceans. So then when we have these atmospheric river events, essentially the atmosphere can carry more water towards our mountains," says Rachel White, atmospheric scientist at the University of British Columbia. Weather events like hurricanes, cyclones, typhoons, and floods are only going to get more intense and more unpredictable.
Who is taking responsibility? Not public safety minister Mike Farnworth.
At every question asked, he deflects responsibility to "locals." Whether it is travel advisories, or why bordering communities in the U.S. are taking precautionary measures, or why the provincial alert system wasn't used, he says it is the responsibility of local officials. "That's the right way and the appropriate way to deal with these kinds of situations, because the experts in that local area know where the problem spots are," Farnworth defends.
Here is the problem with that argument. Smaller local communities don't have access to the same resources that provincial or federal governments can provide. Farnworth said that the decision to close highways that connected towns were the responsibility of the locals, but they are also still part of provincial jurisdiction and control.
"Other communities may require provincial assistance, they will ask for that," Farnworth says. Apparently, getting warned by Environment Canada days earlier and seeing devastating footage of entire towns submerged under water isn't a cry for help. This approach by the provincial government is the definition of victim blaming.
For a province that has been hit by severe weather events within the span of two years, wouldn't the first call to action be providing immediate assistance, updating disaster response plans, and making changes to climate action policies, instead of waiting to be asked for help?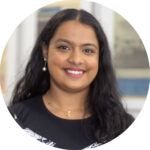 Opinion Editor (Volume 48) | opinion@themedium.ca —
Aroni is a fourth-year student completing a double major in Political Science and English. She previously served as the Associate Comment Editor for Volume 47. Aroni is keen on enabling a safe and trusted space within the student body for students to critically think about issues that matter to them—both on a personal to global scale. Outside of studying, writing, and editing, she loves to dance to classic Bollywood tunes, cycle while listening to music or a podcast, write in her blog, and watch endless K-dramas on Netflix and Viu. You can connect with her on Instagram, LinkedIn, or her blog.