Books that changed my life in 2022
Throughout 2022, I found myself amazed by the connections I was able to make between the books I read, the things saw in the world, and what I learned in class. One of the most beautiful things about reading is that it expands your horizons so broadly that you can form links between vastly different spheres of life. If you're looking to read more in 2023, here are four books that I read in 2022 that have forever changed my outlook on my life, the world, and the people around me.

Tomorrow, and Tomorrow, and Tomorrow by Gabrielle Zevin
Published on July 5, 2022, Tomorrow, and Tomorrow, and Tomorrow follows two children who become best friends by playing video games together in a hospital. Years later, a spontaneous reunion leads them to a creative partnership in which they establish a video game company together. The book explores how expressing love—whether it be for our family, friends, partners, or work—changes over a lifetime. Zevin allows readers to think about how our relationships sometimes suffer if we don't know what we want from our lives or from our loved ones. The novel also explores the fragility of morality, the nature of disability, multi-ethnic identities, and the intersection between the sciences and humanities. Its prose is vivid and compelling, with characters that are frustrating, lovable, and real. Zevin's world-building is completely immersive, moving the plot at a perfect pace. All in all, Tomorrow, and Tomorrow, and Tomorrow boasts every feature of, in my opinion, a perfect novel.

Know My Name by Chanel Miller
Miller was first known as Emily Doe, the alias under which she released a victim impact statement addressing how a Stanford University student sexually assaulted her on campus. In Know My Name, she shows the world her true self: a quietly confident, honest, and compassionate woman who has profoundly suffered but lives a beautiful life. Miller writes about her painful assault story with nuance and grace. She testifies to the isolation and shame she felt, even when she was unconditionally supported by family and friends. She places focus on how toxic masculinity hurts all women everywhere and reminds readers of the values in accountability. She also celebrates women and healthy masculinity. Hopeful, heart-wrenching, humorous, and important, Know My Name is beautifully written—with everything one could want in a memoir. I tore through it in two days and walked away mourning Chanel's experience yet amazed at her life. Reading the novel allowed me to grieve for the countless assault victims who do not have the support that Chanel does and inspired me to love and listen better.

All the Light We Cannot See by Anthony Doerr
In 2022, I re-read All the Light We Cannot See for the first time since I read it in high school. I loved it even more after the second read. The story follows a young girl who grows up in Paris but flees to a coastal city in the northwest during the time of Nazi occupation. In a parallel plot, Doerr also tells the tale of a young and brilliant orphan who winds up as one of the Nazis in that very invasion. The two divergent storylines intertwine in many places over many years, building anticipation for when the worlds of these characters inevitably collide. Thematically, Doerr writes about how each moral compromise makes the next one easier. He allows readers to ponder on their own life choices, evaluating the paths many go down and the meanings of "turning back." The novel doesn't shy away from the devastation of war and the evil of Nazism. Darkness lingers in every chapter, sometimes threatening to overwhelm, but light and hope swell in unexpected places. All the Light We Cannot is a story full of heart that will remain on my favourites shelf for a long time.
Oryx and Crake by Margaret Atwood
Oryx and Crake centres on "Snowman," a character who is possibly the last human alive after a pandemic overwhelmed the world. He embarks on a cross-country trek while reflecting on the pandemic, the death of his best friend Crake, and his deceased lover Oryx. As he journeys, the reader pieces together his tragedy. Atwood is one of my favourite authors: her narration is both beautiful and fun to read. Her writing employs a non-chronological, stream-of-consciousness storyline that keeps surprising you. The detached, minimalist voice she uses to describe extremely traumatic topics feels Orwellian, but wittier. This tone, however, does shift partway through the novel, exemplifying the difficulties that come with life in an epidemic. Oryx and Crake was one of the most formative books I read in 2022. The novel explores the human tendency to sensationalize tragedy. It asks why people mistreat the things they say they love and nurse the things they say they hate. But, most importantly, it feels profoundly plausible and timely in a century of Covid-19 and gene mapping.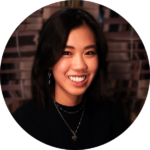 Associate Arts & Entertainment Editor (Volume 49) — Maja Ting is in her second year at UTM, completing a Specialist degree in Forensic Biology. Her favourite pastimes include reading, listening to music, watching movies, museum hopping, waiting for public transit, and referring to herself in the third person. You can connect with her through her bookstagram or personal Instagram.