Why it's important to allow Indigenous parents to name their children traditionally

First Nations families in Manitoba revealed that the traditional names they give their children are being altered.
Picking a child's name is one of the toughest, well-thought-over decisions that new parents face. Many parents want their child's name to carry significance, to be something more than just a name, to mean something deeper. Through these names, parents often create an identity for their little one. However, for many First Nations parents, their child's names aren't always printed accurately on the birth certificate.
In Manitoba, many First Nations parents are revealing that the traditional names that they have chosen for their children are transcribed incorrectly in legal documents. The parents explain that the first names they have chosen are being incorrectly assigned as middle names and accents are being removed and replaced with incorrect letters in the baby registry process.
Parents have explained to CBC News that the names they have picked for their babies are those that carry very significant meaning in the culture. One parent, Kakeka Thundersky, says, "our names are really powerful and really strong."
As these parents call for reforms on the Vital Statistics Act of Manitoba, they argue that it is unfair that each parent should have to file individual inquiries to get the situation resolved. Manitoba should accept the chosen names in the first place.
As the chosen names continue to be altered and rejected, it speaks to the potential harm to the First Nations culture. Changing traditional names against the will of the parents (in fact, without them knowing), forces them to either endure a stressful process to get it resolved, or, settle for the incorrect name. As these parents aim to carry on traditional meanings, instill culture, and manifest glorious outcomes for their little ones, it feels utterly disrespectful to change historically-rich and significant names.
This pushes me to think back to Residential Schools, which not only subjected children to harm, abuse, and life-long trauma, but also intended to anglicize them. As Canada claims to have learned from their historic mistakes and injustices to the First Nations, they seem to be doing it yet again. The names of Indigenous children are more than just names. They serve as a sign of unwavering strength and pride for the First Nations communities. They serve as a revival of the culture that Canada tried to erase.
It is imperative that the Vital Statistics Branch reforms the Vital Statistics Act to allow each and every parent to name their child as they wish. Considering the need for reconciliation with the First Nations, reforming this Act would establish greater respect between the Indigenous and non-Indigenous. And lastly, although reforming this Act could abolish this naming issue for future generations, we must still bear in mind the loss that past generations have faced at the hands of this rule.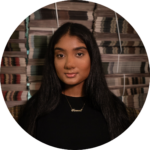 Opinion Editor (Volume 49) | opinion@themedium.ca — Kareena is a third-year student completing a double-major in Criminology and Socio-Legal Studies and Philosophy, and minoring in Forensic Science. She has previously served as the Associate Opinion Editor for Volume 48. Through her involvement and contributions with The Medium, Kareena hopes to foster a safe and trusted space, while encouraging others to let their voices and stories be heard. When Kareena is not writing or studying, you can find her watching true crime mysteries or cooking.