Who won best costume this year?

This year's Halloween did not disappoint with the creepiest and most creative costumes yet.
Yet another Halloween has come and gone. This year's Halloween costumes were extremely creative and interesting, and they have caused some cosmic chaos. Here's a short list of some of the most memorable Halloween costumes this year, along with my unsolicited opinions and scores.
LeBron James stepped out with a serious Freddy Krueger costume, nailing the iconic burnt face and knives for fingers. Freddy Krueger is one of James's all-time favourite slashers, and so of course, he has a Freddy Krueger tattoo too that paired nicely with his costume. The Kreuger overload definitely scared his children that night. I give this costume a solid three-point-five out of five, great execution (pun intended).
Lizzo didn't hold back in her baby Yoda costume as she strutted down Hollywood taking selfies with clueless onlookers. Her showstopping twerks and body rolls on the streets definitely took out the baby-ness from the costume and added the unique Lizzo spice. I'm going to give this a four because this costume was "Good as Hell."
Lil Nas X dribbled a basketball as self-dubbed, "He Who Must Be Called By Your Name," traumatising children left and right. But he didn't look all that different considering his huge forehead. His Halloween TikTok extravaganza gave even Voldemort his five seconds of TikTok fame. He gets a four-point-five, not a full five because his forehead is an unfair advantage.
Look how he massacred the look! The Weeknd donned a Don Vito Corleone costume paying homage to the iconic The Godfather character and executing the costume better than anyone else this year. Down to the silver receding hairline and wrinkles, The Weeknd captured Vito Corleone a bit too perfectly. He even managed to get the notorious Corleone facial expression and wore an identical suit. I give him a golden five because he killed this look so hard all his competitors are sleeping with the fishes.
Ariana Grande made a splash this Halloween with her Miss Creature From the Black Lagoon monster movie costume. She sipped wine in her scaly costume, gills and all, sending shivers down the spines of everyone that has ever been terrified of the water. Four points for this because somehow, she still looked smoking hot.
Saweetie wowed this Halloween with her sexy Catwoman look. The showstopping ripped leather pants got the seal of approval from Halle Berry herself in an iconic Instagram cameo. This costume gets three points because sure, its sexy and is approved by Berrywoman herself, but it lacks the oomph in comparison to the other costumes.
Doja Cat perfectly embodied Disney's Atlantis character Princess Kida this Halloween. Everyone's original crush on Kida has resurfaced as Doja Cat killed this look. For a character that was maybe too sexy for Disney, it was perfect for Doja Cat, especially the pastel baby blue outfit and the swooped bangs. She gets a sparkling four points from me.
Neil Patrick Harris's family once again killed it with their Halloween costume tradition. This year they embodied an homage to classic horror characters Norman Bates, Jack Torrance, Chucky, and Reagan MacNeil. The family portrait probably scared even the most seasoned horror movie fans. Children are terrifying on their own, let alone in costumes as horror characters, so it is five out of five from me because I refuse to be haunted by their screams.
The winning title is tied between The Weeknd and Neil Patrick Harris's family. The ultimate tie breaker would be a thorough statistical analysis of the amount of people scared by their costumes, followed by social media engagements, and ultimately compared with Halloween trends of the year. Since I don't have the time to put together an excel sheet, I'll leave it up to you all to decide. With just these few looks, it clear that celebrities did not take Halloween 2021 lightly and gave it their all. There are even more frightening and creative costumes that we couldn't even begin to talk about.
Feel free to share your opinions of best or worst costumes by writing a letter to the editor or commenting on this article!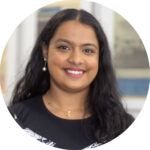 Opinion Editor (Volume 48) | opinion@themedium.ca —
Aroni is a fourth-year student completing a double major in Political Science and English. She previously served as the Associate Comment Editor for Volume 47. Aroni is keen on enabling a safe and trusted space within the student body for students to critically think about issues that matter to them—both on a personal to global scale. Outside of studying, writing, and editing, she loves to dance to classic Bollywood tunes, cycle while listening to music or a podcast, write in her blog, and watch endless K-dramas on Netflix and Viu. You can connect with her on Instagram, LinkedIn, or her blog.