What students and staff can expect for the fall reopening of campus

With the reopening of campus grounds and services, UTM implements new changes for the safety of staff and students.
The Medium spoke with Nicolle Wahl, Content Director at the Office of Communications to discuss the logistics and precautions the UTM campus will implement this Fall term. "The pandemic has created major disruptions and doubt, with messages constantly changing as the science and local public health guidelines develop," said Wahl.
"We want to reassure students that if the pandemic prevents their in-person attendance at UTM in fall [of] 2021, we [will] continue to teach them where they are. We have many courses and support services online for this purpose."
The UTogether website posted answers to frequently asked questions to guide students on vaccinations, mask protocols, changes to tuition fees, classroom settings and more. Mask protocols will be implemented by the Policy on Non-Medical Masks and Face Coverings which also follows the provincial regulations. The policy states that "anyone entering any indoor building on campus must require a non-medical mask or face covering."
"[They will] offer the full range of student services, including health and wellness opportunities, career planning assistance, international student support, and ways to engage with fellow students along with faculty, librarians, staff and the community," continues Wahl.
She also mentions, "more services will be in person than last year, but we'll maintain many virtual services too for students who aren't in the immediate area. We've learned that some specific virtual options work out better for some students than in-person, so we don't want to lose those."
Wahl explains that the UTM Library looks forward to welcoming the campus community with the reponing of physical spaces, resources, and services. She also mentions that the university will continue to provide services remotely to improve access for all students. Though the campus is planning for in-person activities, resources will continue to be available for those who are unable to attend the school.
The Medium also spoke with, Loridee de Villa, a second-year student pursuing the Biology for Health Science program to discuss these changes. "I'm most excited to see the student life! Every time I go to campus, there's hardly anyone there. I want to see how different clubs function, school events, and all that typical university stuff."
de Villa points out the challenges of the online university space. "As excited as I am to see actual people again, I am absolutely terrified for the class experience. Being in a big class is something that has always scared me, and I feel like it's more difficult to have your voice heard in a big lecture hall versus on a zoom call. […] I'm [beginning] to question whether my brain can even retain any knowledge at this point. But overall, I think the future challenges will be so worth it because we'll have a stronger sense of community to help us pull through."
Even with these concerns for the coming year, Wahl wants students to be hopeful. "Though much remains uncertain, and though we have designed schedules with maximum flexibility in mind, we encourage students to come to campus in Fall 2021, not only to attend in-person courses and labs, but also to enjoy all the other enriching personal, academic, and co-curricular experiences that comprise a vibrant UTM education: to meet faculty; conduct research; study on-campus; participate in fitness and recreation; make new friends in student residences and clubs."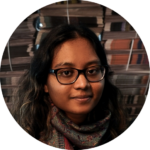 Staff Writer (Volume 49); Associate News Editor (Volume 48) — Razia Saleh is currently completing a Biology degree at UTM. She has been involved with The Medium since 2020 as a contributor and continued to write for The Medium as an Associate News Editor during Volume 48. She hopes that her experience as a writer with The Medium will help her contribute to society's efforts to provide authentic and factual journalistic media to educate her readers. She hopes to take her interest in ongoing research within the scientific field and explore ways to share it with others through this platform. In her spare time, she paints natural landscapes inspired by her travels and enjoy a few live concerts throughout the year. You can connect with her on Linkedin.