UTMSU organizes mentorship program for new students attending campus

Peer mentorship program collaborates with youth mental health organization this year to provide maximal support for students.
Organized by the University of Toronto Mississauga's Student Union (UTMSU), the Peer Support Program is collaborating with a youth mental health organization, known as Stella's Place, to prepare students for the new school year. Starting this September, students will be able to meet their UTM peer-mentors in open and judgement free in-person and virtual support sessions. These sessions are meant to guide students through their first year in university and provide support in any way necessary.
In its second year, the program is set to run throughout the 2021-2022 semesters and will also be available in the next summer term. It offers peer support sessions in three formats: the default online session over Zoom, group sessions, and, as long as pandemic restrictions permit, in-person sessions held in the Student Centre following pandemic guidelines and protocols.
The Medium spoke with the Nadeem Qureishi, one of the Peer Support Program's program coordinators, who explained that the program is beneficial for student participants as well as the volunteer peer mentors leading the program.
"With peer support volunteers that are efficiently trained by professional and experienced peer support workers from Stella's Place, volunteers foster a safe, and open environment for participants to lead the conversation however they desire," says Qureishi.
After undergoing an extensive training program, peer-mentors are hand-picked by UTM coordinators and will be able to hold scheduled sessions for students. According to Qureishi, students that meet with a peer mentor will take the "driver's seat" in every session, meaning they are able to carry the conversation in a manner they desire during their allotted time. Qureishi emphasizes that anything shared in the sessions is completely confidential, and volunteers are trained to be able to handle situations that require immediate attention.
To become a volunteer mentor, individuals will be required to a fill out an online form and submit a brief personal biography. This biography is then analyzed by program coordinators and matched with students who are seeking mentorship. Following each session, students are able to fill out a feedback form for the program, and for their mentor, and are given a chance to book follow-up appointments with the same mentor. Participants also have the option of selecting a different mentor.
Interested participants are eligible to sign up using the link in the program's Instagram page (@UTMSUPeerSupport), or on the group's website. Registration for sessions will become available in early September. Once the form is complete, a session is typically booked for the following week. Sessions are offered weekly and become more frequent around exam season, allowing more opportunities for students to meet with their mentors. Sessions can be provided immediately, or within 24-hours. Qureishi states, "we're very accommodating with support session times." 
"The program is also beneficial to volunteers, as it provides a great opportunity for individuals to explore the field of mental health," Qureishi states. Peer mentors learn skills through training sessions that allows them to comfort individuals, even when discussing sensitive personal subjects.
Students who are interested in learning more about the program and its initiatives are encouraged to visit the group's website, or social media page (@UTMSUPeerSupport). Students are also able to get in touch with program coordinators via email (provided on both the website and social media page) to reach out for more information.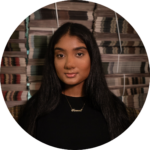 Opinion Editor (Volume 49) | opinion@themedium.ca — Kareena is a third-year student completing a double-major in Criminology and Socio-Legal Studies and Philosophy, and minoring in Forensic Science. She has previously served as the Associate Opinion Editor for Volume 48. Through her involvement and contributions with The Medium, Kareena hopes to foster a safe and trusted space, while encouraging others to let their voices and stories be heard. When Kareena is not writing or studying, you can find her watching true crime mysteries or cooking.