UTM organizes a virtual meeting to celebrate the Annual Research Prize Symposium

Four UTM recipients gather to share a few words after being awarded for their contributions in the Humanities, Sciences and Social Sciences departments.
On January 24, the University of Toronto Mississauga (UTM) held its annual Research Prize Symposium celebrating professors' contributions to research in the Humanities, Sciences, and Social Sciences departments. UTM students, faculty, and staff were all welcomed to join the celebratory festivities in their virtual event.
The virtual event was hosted by Professor Steven Short of UTM's Biology department and coordinated by the Office of the Vice-Principal, Research as well as Professor Elspeth Brown from the Department of Historical Studies. The meeting consisted of roughly 50 participants.
Created in 2016, the symposium awards prizes of up to $2,000 to the contributions of aspiring researchers early in their careers.
As stated on UTM's website, the award is available to "tenured or tenure-stream faculty whose major appointment is at [UTM], and who hold the rank of Associate Professor, or Assistant Professor for a period up to and including two years post-tenure."
For this year, the four recipients were Professor Andrew Beharry from the Department of Chemical and Physical Sciences, Professor Bailey McMeans from the Department of Biology, Professor Cosmin Munteanu from the Institute of Communication, Culture, Information and Technology, and Professor Owen Ware from the Department of Philosophy. Each researcher was selected based on their contributions to their own department.
McMeans took time during the meeting to mention where her interest are rooted as a researcher. "Seasonality is widespread but surprisingly understudied," she stated. According to McMeans, several aquatic ecologists predominantly focus their studies on open-water productive seasons.
"It has been presumed that nothing is happening in the winter." With the rapidly changing climate, McMeans emphasized the importance of looking into fish food webs during these winter months.
On the other hand, Beharry was recognized for studying and treating various types of cancers. As he was unable to attend the event, Beharry pre-recorded his presentation to share with the virtual attendees.
Professor Cosmin Munteanu was awarded for his outstanding research on the interaction of humans and computers, specifically designing applications for older adults. User experience design, digital inclusion, aging, natural language processing, and ethics were also the main focuses of his research.
Short commented on his contributions by mentioning, "I think all of us with aging parents can really grasp your research and understand it very deeply [as it] personally triggered me."
Ware's research focused on enlightenment and 19th-century philosophy. As he describes, "Enlightenment is to understand a lot of the words we live in today. So, like what it means to live in a free society. Ideals concerning the inherent identity of persons, and the various political and moral implications of the value of freedom, these come from the enlightenment." His current research involves thoughts of how Europe encountered Ancient India in that era.
After all the recipients had a chance to share a few words, Brown concluded the event by congratulating the professors and thanking all the attendees for joining.
"Thank you all so much for coming today and for the award winners presenting wonderful presentations on your research. I also want to remind all of you this is in fact an annual award so, please nominate colleagues of yours, speak to folks in your department who are looking after awards to perhaps nominate a colleague of yours for next year."
The Annual Research Prize Symposium is important in recognizing the efforts of professors and motivating faculty in completing and sharing their research journey.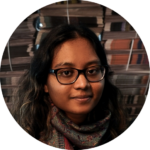 Staff Writer (Volume 49); Associate News Editor (Volume 48) — Razia Saleh is currently completing a Biology degree at UTM. She has been involved with The Medium since 2020 as a contributor and continued to write for The Medium as an Associate News Editor during Volume 48. She hopes that her experience as a writer with The Medium will help her contribute to society's efforts to provide authentic and factual journalistic media to educate her readers. She hopes to take her interest in ongoing research within the scientific field and explore ways to share it with others through this platform. In her spare time, she paints natural landscapes inspired by her travels and enjoy a few live concerts throughout the year. You can connect with her on Linkedin.