UTM Career Centre introduces Job Shadowing Program for students

The Career Centre enables students to gain insight into their prospective career interests.
This year, UTM's Career Centre is offering a way for students to virtually explore their career interests through the Job Shadowing Program. This program will allow students to experience the workplace prospective to their job interests within the Greater Toronto Area. Students will have the opportunity to shadow an individual for one to two days in their selected field.
Students who are currently completing their undergrad, or have graduated in the last two years, will be eligible to partake in this program. Applications will be open from September 20 to September 24. The standard placement period will last from October 11 to November 5, but it may vary depending on each host.
Jelena Vulic, Team Lead and Partner Relations for Experiential Learning, discusses what students who are interested in participating in this program can expect.
"The Job Shadow Program is an opportunity for students to [spend] time with a professional who is eager to engage UTM students and inspire the next generation of professionals. It's an opportunity to observe what a day in a workplace looks like and ask questions that will allow for self-reflection and making those important connections between their academics, passions, and interests." Students can visit the UTM Career Center online to view available placements.
Though the program does not offer financial compensation or an academic credit, students are given the opportunity to enrich their knowledge in what they wish to pursue. Vulic also mentions that "the program is currently pending approval for the Co-Curricular Record."
Due to the Covid-19 pandemic, the program will be held online but Vulic wants students to know that this should not deter their interest in the program.
"There are no specific working duties or responsibilities that are expected of students that participate as the program is educational in nature." This means that students placed in medical-related, biotech, pharmaceuticals, software development, or teaching placements will not be required to know any specific skill sets.
Vulic continues to mention that "[students] are able to gain valuable insight into the realities of a specific career and reflect on whether this career path is reflective of their academics, passions, and interests. This can help them inform their own career choices in the future."
Students are to complete an online module, known as Career Exploration 101, in order to be eligible to apply for the program. Once completed, students should expect an email detailing the rest of the application process.
"We are very excited about this as employers are keen to learn how student's stay engaged in co-curricular activities during their time at university in addition to their academics!"
Students can visit the Career Centre website or call (905) 569-4455 for more information.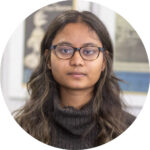 Razia is currently completing a specialist in molecular biology with minors in chemistry and statistics. She began writing for The Medium as a news writer over a year ago and took this opportunity as a way to challenge herself and step out of her comfort zone. In her free time, she enjoys hiking, painting, photography, and is a music enthusiast. She is also a huge Potterhead (anyone in Ravenclaw?!). For any queries, you can connect with her through LinkedIn.