The lack of well-represented information in documentaries

Questioning and analyzing the "facts" in some of Netflix's most popular docuseries.
There is something so satisfying about sitting on the couch, turning on Netflix, and flipping to a docuseries. Documentaries aim to entertain viewers through facts. Instead of binge-watching dramas or comedies, some audiences find the educational value of a docuseries to be a better use of their time. Still, docuseries are at the mercy of directors', producers', and audience's biases. I often wonder: should the information provided in docuseries be taken at face value or with a grain of salt?
In March of 2020, when Covid-19 shut down most forms of entertainment, Netflix released Tiger King: Murder, Mayhem and Madness, directed by Eric Goode and Rebecca Chaiklin. The docuseries showcased Joe Exotic, a colourful, private zoo owner, and his eventual imprisonment for hiring two men to murder "Big Cat Rescue" owner, Carol Baskin. The tale of Exotic and Baskin immediately went viral. Although the show originally presented itself as a conservation docuseries—highlighting the unethical treatment of animals in private zoos—the focus quickly shifted to villainizing Carol Baskin.
In a book titled Tiger King: Murder, Mayhem and Madness: A Docalogue, author Tanya Horeck contributes a chapter that discusses the gender politics of Tiger King based on a trending hashtag: #carolbaskinkilledherhusband. Through the documentary director's focus on the disappearance of Baskin's husband in the late 1990s—rather than the crimes committed by Exotic—the internet turned to creating the zoo owner into a folk anti-hero, and Baskin into a villain. Some fans even asked the former US president Donald Trump to pardon Exotic of his crimes.
While Tiger King has little to say about the importance of wildlife conservation, there are less extreme examples related to the lack of well-represented information in Netflix true crime docuseries. In his latest installment of Conversations with a Killer, filmmaker Joe Berlinger features infamous serial killer Jeffrey Dahmer. The Jeffrey Dahmer Tapes series is the third interaction of Berlinger's Netflix docuseries, the first two focusing on Ted Bundy and John Wayne Gacy.
Berlinger's Conversations with a Killer series presents tapes and archival footage of each notorious killer. In both Bundy and Dahmer, the episodes follow the subjects' lives, attempting to understand their motivations. The Dahmer tapes feature interviews with his defence lawyers, Wendy Patrickus and Gerald Boyle. Both lawyers describe Dahmer as either "a nice man" or "very polite." I find that in true crime documentaries, docuseries, and biopics, it's a common trend for the filmmaker to create a sympathetic tone for the murderer when discussing their lives. But why?
Based on how crimes are portrayed, audiences form emotional opinions about the subjects of these documentaries. Dahmer is often characterized as a lonely, closeted, queer man who loves his grandmother, just as Ted Bundy is often shown as a handsome and charismatic law student. While anyone should be horrified by the crimes committed by Dahmer and Bundy, the inclusion of their dispositions outside of their criminal activities plays with the emotions of the audience. It does not serve the victims to spend so much time on a criminal's "non-threatening" personality.
Just as Dahmer and Bundy are the centre of docuseries, they are also highlighted in their own biopics. Berlinger's Extremely Wicked, Shockingly Evil and Vile (2019) and Dahmer–Monster: The Jeffrey Dahmer Story (2022), created by Ian Brennan and Ryan Murphy, cast beloved actors like Zac Efron (Bundy) and Evan Peters (Dahmer). Although the historical information provided within these biopics and docuseries is mostly accurate, the overly-emotional representation of each killer leads audiences to sympathize with the murderers rather than the victims.
The information provided in a docuseries is at the mercy of its directors. The knowledge passed on to viewers is based on fact, but is riddled with suggestion. So, my question remains: should these facts be taken at face value? There is nothing wrong with watching a docuseries, but due to a slew of biases from both the filmmakers and the audience, there are evident flaws. My advice is to keep enjoying the guilt-free, docuseries binge, but also to do a little extra reading on the side.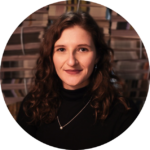 Associate Arts & Entertainment Editor (Volume 49) — Megan is majoring in English with minors in Creative Writing and History. Her love of the arts and experience in theatre and music are the backbone of Megan's work with The Medium. Aside from her academics and journalistic endeavors, Megan can be found writing original music for streaming platforms, playing her pink Fender Jazz Bass, writing spooky detective stories, longing for the mountains of B.C., and watching Disney+. Her preferred instruments of writing are her notes app and her 1970s Erika typewriter. You can connect with Megan on Instagram, Twitter, and LinkedIn.