The horror of Astroworld

Eight dead and hundreds more injured as the concert erupted into chaos following over-capacity and criminal injections.
Bright lights, thousands of people, and music that we listen to on repeat—a concert is an experience unlike any other. It is a chance to bond with the strangers around you as you finally see the artist you had decided was worth the money. A concert, for some, ignites passion, excitement, and an adrenaline rush. It's unfortunate to say that Travis Scott's festival was the first and last concert many will go to with eight attendees dead and 300 more injured.
Social media platforms burst into flames almost immediately after the concert. Many were mourning the individuals lost, while the vast majority of social media users were furious with Scott's ignorance of the whole ordeal including his inability to stop performing while clearly dangerous activity was taking place.
In videos now taken down, fans were seen yelling to Scott and his crew to stop the show as individuals dropped dead quite rapidly. While it appears that a great number of people died and were injured due to the intense pushing and crowding at the concert, there is an investigation now underway due to an individual or group injecting concertgoers, as well as a security guard, with some form of narcotics.
The concert was in flames far before Travis began to sing. After 50,000 tickets were sold, Travis Scott tweeted how he "is still sneaking the wild ones in" which inevitably lead to the mob swelling. This tweet was then deleted following the tragedy. While Travis Scott claims he had not seen the catastrophe that was his concert, destructive fans were seen climbing the emergency vehicles that had arrived to help the wounded and dead. The terrifying animal instinct and mob mentality that must've taken over those people in that moment, to the point where they became primitive and borderline evil, has resulted in devastating loss. The youngest of the injured is a ten-year-old boy who remains in the hospital in critical condition.
Travis Scott has since released a public apology and has claimed he will help the victims and their families but has not specified how. Fans remain outraged at his blatant ignorance of the chaos ensued at his own concert. Many have shed light on an incident from 2015 where Travis Scott stopped an entire show because his shoe was missing. He then cursed at the individual who had taken his shoe and told his fans to attack them.
There was apparently no clear bag policy enforced which is a norm at most concerts to ensure the safety of all. So, while Travis Scott claims he was unaware of the chaos during his concert, the vast majority of people are unable to comprehend how he claims ignorance when countless climbed his stage and told him and his crew that people were dying.
Travis Scott, his crew, the tech, as well as the raging disrespectful concertgoers, deserve to be held accountable for the devastating losses, as well as the unimaginable trauma and anxiety this will cause for all affected.
For those who have been to concerts, and for those who have not, there seems to be an out-of-body experience when amidst such a setting. You're surrounded by thousands and thousands of people, who enjoy the same music as you, as you're all waiting more than an hour for your favourite artist to come on stage and perform. Besides the stage lights, you're in darkness, with no idea of what kind of person is beside you. Adrenaline starts pumping and you forget the outside world. By the time you leave the concert, it's nearly midnight and you're still dazed from the exhilarating show you just witnesses. If you go with friends, you often leave the venue feeling closer than ever because in those moments, it's you, your loved ones, and thousands of other people vibing harmoniously.
There are no words to express the pain that the families of the dead must feel, as well as the level of anxiety the concertgoers must now have. A concert is supposed to end with safe and fun memories that last forever, in a positive way. It is not a warzone nor a place to die but Travis Scott, his team, and the mind-numbing zombies that perpetrated the crime too, have blood on their hands.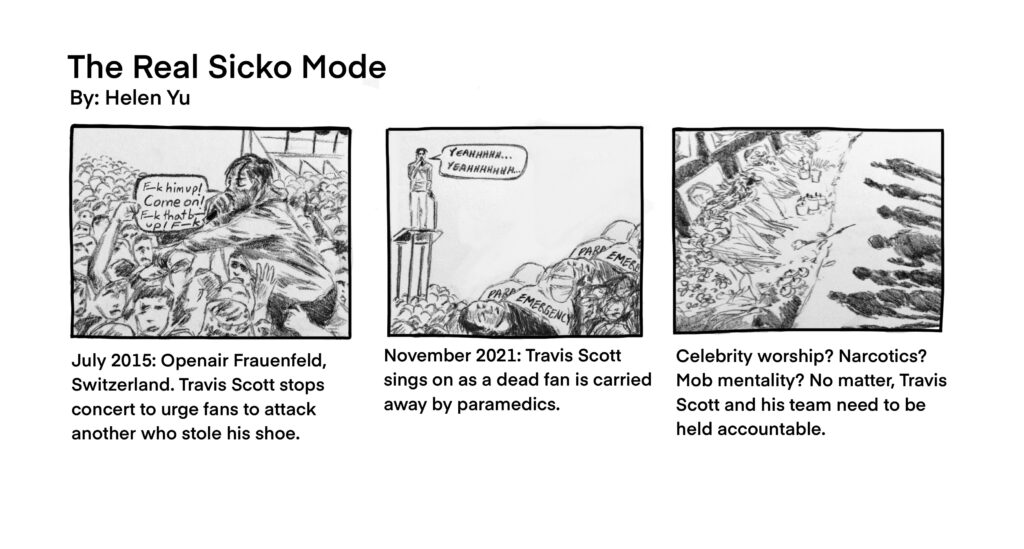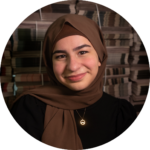 Changing Leaves Columnist (Volume 49); Managing Editor (May–November, Volume 49) — Aia is a fourth-year student studying Psychology and completing a double minor in French and Philosophy. She became a Staff Writer for The Medium in the 2021-2022 publishing year and was determined the team couldn't get rid of her so soon. In her spare time, she can be found café hopping in the hopes to find the best iced chai in the GTA, writing her weirdly complex thoughts down in her notes app, or taking a million pictures a day of her friends. Aia hopes that students find The Medium and feel the sense of belonging she has felt. You can connect with Aia on Linkedin.