The Aphrodite Project returns for another year

With almost 46 thousand matches made in 2019, students look forward to yet another year of online pairing.
Created by the University of Waterloo, the Aphrodite Project made its return this year on January 24—just in time for Valentine's Day. The project operates based on an algorithm that connects participants with a potential match grounded on answers submitted through a personality test.
This year, submissions were due on February 9, as match results are set to come out on February 13.
The project is open to students and alumni from various post-secondary universities including U of T, McMaster University, Western University, and even Harvard University. In 2020, over 3,000 students from U of T participated in the project.
The student-run initiative is a free online matchmaking service for students across various universities. According to their website, 45,954 matches have been made since 2019, with one in two individuals going on a date based on their results.
The interface has adopted new updates since last year. This year, participants are now able to upload a profile photo and other information that would be emailed to their matches.
To complete the test, students must verify their university email and complete the questionnaire. Some of the information on the questionnaire requests the participant's contact information, demographic information, profile photo, as well as personality, lifestyle, values, beliefs, relationship preferences, and future plans.
With sexual violence becoming a common threat on campus, the project also makes it a priority to frequently update their protection policy. It was last updated on January 20, 2022.
The project advocates for meaningful connections among students, as they state on their website, "Through Aphrodite Project, we hope to create opportunities for intimate and meaningful relationships for anyone from any walk of life."
According to some participants as disclosed in the website's reviews, many claims that the project helped them find their "soulmate." However, others have not had the same luck with their matches.
On a Reddit thread by U of T students in 2021, one user writers, "My match seems nice, but they aren't really my type, so I probably won't message them." Another user even shares a similar opinion, "[I] have a pretty high compatibility with my match but based on social media [they're] not really my type."
Several users even claimed that they could not be matched or did not receive an email from who they were connected with. After all, the project does not guarantee a 100 per cent response rate. On their website, they aim to match 95 per cent of submissions. On the occasion students are unable to get matched, members of the project will reach out via email personally.
The method used to create online matches is based on the Gale-Shapley algorithm, developed to pair couples who share the same characteristics based on personality. Designed by Lloyd Shapley at Harvard University, this algorithm was awarded the Nobel Prize in Economics Sciences in 2012.
Overall, the pandemic has made it difficult for several students to establish meaningful relationships after years of virtual learning. Run by students, The Aphrodite Project considers these challenges and aims to match students as safely and easily as possible.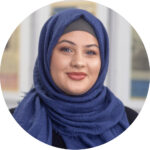 News Editor (Volume 48) | news@themedium.ca —
Going into her third year, May is currently completing a double major in Sociology and Criminology. Before becoming News Editor, May contributed The Medium for two years as a Staff Writer and Associate Features Editor. One of her biggest goals is to launch a nonprofit organization that mediates humanitarian crises around the globe and that supports children living in third-world countries. When she is not writing or studying, May spends her time working with canine coaches to provide supervised fun to four-legged furry friends at Dogtopia Applewood.