Syrian children overburdened by decade long humanitarian crisis
Syria's current economic disaster has created one of the world's worst humanitarian crises, with 80 per cent of its population living in poverty. With more than 13.4 million Syrians requiring urgent humanitarian aid, the escalation of poor living conditions is significantly impacting children, leaving more than six million in dire need of assistance.
After more than a decade of civil war, hyperinflation has left Syria's education system vastly underfunded and fragmented. Nearly 2.5 million children are being deprived of an education. The Covid-19 pandemic has also exacerbated the disruption of education, as children who attend school are subjected to overcrowded classrooms and insufficient ventilation systems.
One in three children is out of school as the war prevented two decades of educational progress. Several school structures remain destroyed and abandoned.
On countless media outlets and platforms such as YouTube, footage shows Syrian children losing loved ones, including parents and siblings. Bombs continue to destroy homes while U.S. militants occupy schools and hospitals of the country. Only an estimated 53 per cent of hospitals and 51 per cent of healthcare facilities are fully functioning.
The rapidly evolving crisis has resulted in millions of Syrian refugees crossing borders to neighbouring Middle Eastern countries such as Jordan and Iraq. Nearly 3.7 million refugees have already migrated to Turkey, making Syrians the largest refugee population worldwide.
The country's civil war has left devastating impacts on the physical well-being of children. "I thought these prosthetics would be like the real ones where I could walk, play and work with them, but they've never helped," says one child in an ABC News interview after losing both his legs from the war.
Due to the incident, the young boy now spends most of his time sitting alone in a refugee camp located in Syria. "When I was told about them, I was excited, I thought they had knees that would bend so I could walk with them. I don't know what to do, and we don't have the money to buy better ones," he continues.
The war has also introduced other various health challenges to children, such as life-threatening diseases and malnutrition. With the country's crisis, children cannot have regular checkups, making them far more susceptible to illnesses that stem from poor sanitization and hygiene. Pneumonia is also another prevalent issue due to poor housing structures and cold weather increasing the rate of respiratory infections.
In countries undergoing severe economic distress like Syria, children are also exposed to child labour and become the breadwinners of their families. They are exploited in demeaning circumstances for little pay, with no enforced trafficking laws in the nation.
There are numerous ways communities can help relieve refugee crises—one is by donating to reputable charities that aid Syrians all over the globe. Several charities in the GTA enable donators to make contributions online. Canada Helps is one of many websites that provide a list of local charity organizations.
Individuals can also support refugees through online movements that provide more information about the country's crisis and advocate for the government to take action. Change.org is another website that lists petitions and motions where individuals can sign and be involved.
Islamic Relief Canada, an international aid and development charity, is actively working to provide emergency shelters, food, and medical care for Syria. The organization has been supporting the country for 18 years and is currently accepting donations on their website.
As children are the world's hope for a better future, they deserve access to opportunities that will grant them the means to propel society forward. Though Syria has been facing more than a decade of civil war, there is still time to save its beauty.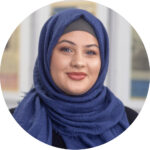 News Editor (Volume 48) | news@themedium.ca —
Going into her third year, May is currently completing a double major in Sociology and Criminology. Before becoming News Editor, May contributed The Medium for two years as a Staff Writer and Associate Features Editor. One of her biggest goals is to launch a nonprofit organization that mediates humanitarian crises around the globe and that supports children living in third-world countries. When she is not writing or studying, May spends her time working with canine coaches to provide supervised fun to four-legged furry friends at Dogtopia Applewood.