CSSDP at U of T invites students to discuss functions of campus police

Dr. Rinaldo Walcott introduces students to the hidden problems of the campus police system and the history behind policing.
On January 24, U of T's Canadian Students for Sensible Drug Policy (CSSDP) held their first session towards their goal of abolishing police on campus. Dr. Rinaldo Walcott, a U of T professor of Black Diaspora Cultural Studies at the Women and Gender Studies Institute, spoke about alternative ways to ensure safety.
U of T's CSSDP is a political organization created to question the university's policies and demonstrate why they could be detrimental to student life.
The virtual session, "Imagining a Police-Free U of T," invited students to voice their concerns about the school's current system and policies for campus protection.
The event collaborated with various organizations across all three campuses including the U of T Law Union, the University of Toronto Mississauga Student Union, Ontario Public Interest Research Group at U of T, and Scarborough Campus Students' Union.
Black, Indigenous, and LGBTQ2S+ identifying individuals face the most harm through the policing system revealing tremendous disparities. This has led to some students and faculty calling for the abolishment of campus police.
Aside from Walcott, Harsh Naik, a member of the CSSDP Toronto community, also hosted the event.
Part of the meeting focused on the topic of police brutality and the over-policing of Black people. "To this day, we see the state and police using excessive violence to oppress Blacks [and] Indigenous Peoples," stated Naik.
A main goal of this meeting was to encourage conversations among students and faculty about policing on campus. The speaker series also emphasized the importance of trauma-informed alternatives.
With these discussions, CSSDP hoped to facilitate a safe space aside from the academic field for students and faculty to voice their concerns as a community.
One of the main topics of the meeting was modern policing and its relationship to slavery. In fact, Walcott argued that modern policing is shaped by slavery.
"We can't think about contemporary logics of policing without understanding that those logics are written by slavery—Indigenous colonization and the attempt to make stolen land appear to be a legitimate process of transfer," Walcott stated.
Using this information, Walcott explains why Indigenous Peoples and Black communities are constantly being targeted by police and why they experience the breadth of police violence in North America.
According to Walcott, slavery constitutes current policing structures which is why the only way for individuals to thrive is through the abolishment of police. This also applies to campus police.
"Campus policing, as special constables and so on, appropriate the logics of the judiciary to shape how they relate to people on campus," Walcott stated. This leads to why campus police impose order and authority not only within the university but spaces outside of it as well such as nearby parks. According to Walcott, this perception is damaging for the community.
Many of the concerns discussed at this meeting were a result of the authoritative power and influence campus police hold—often segregating people.
"We know that campus police [are] not in any way deployed to keep faculty and staff safe but are actually an intermediary when more force is [needed]," Walcott continued.
The prospect of a police-free campus comes with its challenges, but Walcott believes many of the centers at U of T's campuses can help enforce better frameworks for students' wellbeing and mental health.
"It's a doable goal, it's a worthy goal and [U of T administration] should do it." For this to take place, Walcott condemns that all policing systems must be removed for campus to be a police-free environment
With several students and faculty expressing concerns over U of T's current campus policing system, the university is urged to act and respond to the needs of its community. CSSDP will continue to hold meetings at U of T to address these topics, allowing attendees to seek a safe space for conversations.
Currently, their next session is set for February 17 from 6 p.m. to 7:30 p.m. and will also take place virtually. Registration is available online via popular ticketing website, Eventbrite.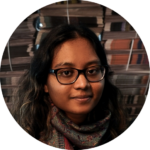 Staff Writer (Volume 49); Associate News Editor (Volume 48) — Razia Saleh is currently completing a Biology degree at UTM. She has been involved with The Medium since 2020 as a contributor and continued to write for The Medium as an Associate News Editor during Volume 48. She hopes that her experience as a writer with The Medium will help her contribute to society's efforts to provide authentic and factual journalistic media to educate her readers. She hopes to take her interest in ongoing research within the scientific field and explore ways to share it with others through this platform. In her spare time, she paints natural landscapes inspired by her travels and enjoy a few live concerts throughout the year. You can connect with her on Linkedin.