Shopping locally is important for the environment

Here's why you should shop small this holiday season.
With the holiday season approaching, it's not too early to begin thinking about gift-giving. Finding the perfect gift for our friends and family can be challenging, but it doesn't have to be! You can shop sustainably, gift mindfully, and find thoughtful gifts for your loved ones—all by shopping from your local small businesses.
Shopping locally supports your local economy and eliminates greenhouse gas emissions from shipping. While there are eco-friendly shipping options out there (if you must, then choose the one with the lowest carbon footprint), shopping locally still beats shipping a package halfway across the world. Of course, there might be that special something you just can't get anywhere else, but where it's possible, I encourage you to shop from your local small businesses this holiday season. When you shop from small businesses, you also get to support someone's livelihood while gifting a thoughtful present. Whether that's buying a handmade bag from your neighbour, picking up a gift card from your local bookstore, or choosing sustainably produced candles, shopping small is better for the environment. 
It's even better to shop from small businesses that are eco-conscious. While it's impossible for a small business—and all businesses, really—to create zero waste, businesses can still choose more sustainable materials and supplies whenever possible, such as opting for recycled paper mailers or using honeycomb packing paper instead of plastic bubble wrap.
Shopping in-person also encourages you to shop more mindfully. Instead of just adding another item to a cart and hitting checkout, you'll be able to really think about who you're gifting the item to and whether it's something that they'll find meaningful. You also won't have to worry about any potential differences in colour, texture, and size when you shop in person.
Shopping small and sustainably doesn't have to be difficult or expensive either. Holiday markets are a great place to start gift-searching. You can do all your shopping at once and support your local economy. Local markets are a great place to find unique gifts for the people you care about. Plus, you can chat with the maker of the gift you buy. In a world where shopping is often solely transactional, it's nice to meet the person who made the product you're buying. Pro tip: look up different vendors' Instagram pages and see what kind of products they offer and the price range, so you can be prepared with some items to look for and a budget to work with!
Many small businesses specialize in creating unique products that stand out. Instead of purchasing a mass-produced candle for a friend, why not buy a local handmade one instead?
By choosing to shop from local small businesses, you're supporting your local artisans and entrepreneurs and shopping in a way that minimizes the carbon footprint at the same time. Not only are you investing in a truly special gift for your loved ones, but you're also supporting your local economy. If you're going to be shopping this holiday season, then you might as well shop small. It's better for the environment, after all.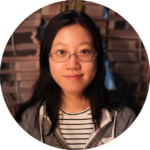 Staff Writer (Volume 49) — Hannah is a third-year student double majoring in Communications, Culture, Information and Technology and Professional Writing and Communications. In her spare time, Hannah can be found running her sticker shop The Aesthetics Studio and listening to true crime podcasts while drawing. Hannah's previous publications include UTM's Professional Writing and Communication official journal of creative non-fiction Mindwaves Vol. 15 and research in Compass Vol. 9. Hannah was also an associate editor for Compass Vol. 9. Find Hannah on Instagram and LinkedIn.