She Said—empowering victims of ex-film superpower Harvey Weinstein

An eye-opening film that reveals the truths and tragedies of women in journalism and beyond.
TW: This article contains references to sexual assault and rape
Spoiler warning: This article touches on the storyline of She Said
Seated in the movie theatre on release day and surrounded by women close in age, I felt empowered and appalled by the true story that unravelled before my eyes. Often, when I watch most films, I find it difficult to sit still and remain engaged. But during the two hours and nine minutes that She Said was playing, I was unable to move, fidget, or pick up my phone. The theatre was silent—aside from some echoing popcorn crunches and the booming voices of the characters on screen.
In an investigation pursued by women, for women, journalists Megan Twohey (Carey Mulligan), and Jodi Kantor (Zoe Kazan) uncovered multiple sexual assault allegations against film producer Harvey Weinstein. If you've followed the series of allegations made against him in recent years, you'd understand the long journey it took to defeat a man of his profound power and finally put him in jail.
The film propelled me into The New York Times office—with journalists rushing into meetings, picking up calls from survivors, and aimlessly hoping that one will have the legal and emotional ability to speak on her experience regarding the heinous abuser. Kantor and Twohey were an unparalleled investigative duo. They supported women, stood up to Weinstein's consistent threats, and rewrote the narrative that permits bullies to silence women.
My heart felt torn watching the brutal and vivid experiences of the victims. In a cliché sense, I was at the edge of my seat, wincing through every scene. I felt like I was in the room with the survivors, holding them as they recounted their intense stories. When each journalist asked why these women did not speak out, they professed their fears, stating that "Weinstein has eyes everywhere." Their careers were threatened, non-disclosure agreements were signed, and these women were forced to continue with their lives while Weinstein went on to abuse so many more women. They weren't allowed to tell their partners, families, or friends. In a painful comment made by one of the victims, "Weinstein built the silence"—an act far too common in sexual assault cases.
Throughout the film, I learned the magnitude of Weinstein's power when stars such as Gwyneth Paltrow, Ashley Judd, and Rose McGowan appeared on screen. After they shared parts of their stories—both in the film and in real life—and detailed experiences they had while working with him, they faced consequences. The actresses made cameos throughout the film in different ways, risking the little security they had left. Assistants that Weinstein assaulted, some as young as 23, were isolated from their dreams in the film industry. Their careers and reputations were destroyed, and with them, their autonomy.
She Said is most importantly a movie about women's resilience—consistently showing the strength of each victim after they faced unimaginable atrocities. By taking away the publicity and power of the abuser, these stories focused on the survivors. Through perseverance, braveness, and care from the reporters and the victims, the plot became empowering. My words fall short, and as a writer, that can be problematic, but the film said everything I felt, thought, and needed to know about what it means to be a woman and a journalist. As recounted in the original New York Times article—also referenced in a piece by Vox—82 women have been victim to Weinstein's attacks—a number that is rising as women find strength in sharing their stories.
Given recent sexual harassment allegations surrounding a University of Toronto Mississauga professor, we must understand that it is not surprising to see those with authority abuse their power. It is disappointing, painful, and harmful to know that there are people within our community who have fallen victim to sexual assault, but it is even more agonizing to know that institutions and industries choose to protect abusers, despite knowing their danger to the community. Systems protecting criminals hide behind piles of money and self-benefit. Weinstein is facing 23 years in prison. This is not enough for the 82 lives he's irreversibly affected.
Being a writer, I felt empowered by the investigative journalistic process unfolding on screen. Twohey and Kantor made a daring partnership and brought justice to the survivors. I found great admiration in their characters as journalists. Despite the consistent threats and abuse they faced before, during, and after the article was published, the journalists chased the truth. Their duty as professionals overrode their own fears. Although I'm not sure I have the same strength as them, She Said left me encouraged.
I pray that all abusers are held accountable for their actions and feel immense guilt, pain, and retribution for their heinous, disgusting crimes. May they lose their positions and face the consequences of their actions. I hope that all victims receive the justice they deserve—that their voices are heard, not silenced. Abusers build the silence, but we will work to demolish it.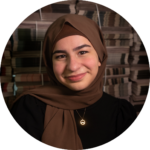 Changing Leaves Columnist (Volume 49); Managing Editor (May–November, Volume 49) — Aia is a fourth-year student studying Psychology and completing a double minor in French and Philosophy. She became a Staff Writer for The Medium in the 2021-2022 publishing year and was determined the team couldn't get rid of her so soon. In her spare time, she can be found café hopping in the hopes to find the best iced chai in the GTA, writing her weirdly complex thoughts down in her notes app, or taking a million pictures a day of her friends. Aia hopes that students find The Medium and feel the sense of belonging she has felt. You can connect with Aia on Linkedin.