Robert Eggers continues to redefine genres with The Northman

Egger's film is yet another example of the history that creates historical fiction.
The Northman, Eggers' latest and most ambitious film, received six times the budget of the director's two preceding films combined—The Witch (2015, US$4 million) and The Lighthouse (2019, US$11 million). Seeing as the film constructed entire Scandinavian villages to maintain its historical accuracy, the budget was not wasted. In case you're wondering if he needed US$90 million to create a Viking movie based on a folktale, let me tell you that there is an epic fight on a volcano only rivaled by a certain intergalactic duel in a highly contentious prequel film directed by George Lucas.
With his two previous features, Eggers individualized himself as a director with an intent to pull audiences into period pieces that don't take place in a castle or on a frontier. Seeing as the genre is swamped with charming princes and lonesome cowboys, this is an overdue change. IMDB lists 51 Western movies set to release by the end of 2022. Even despite your most earnest aspirations, there is no way that even 10 per cent of those will be worth seeing.
In contrast to the thousands of films based around the turn of the 19th century, The Lighthouse has no cowboys or bandits. The Witch may be one of the only films based in the 17th century that doesn't take place in a world of medieval means. Eggers' ability to bring unique periods of time that are generally overlooked by other filmmakers to life is coupled with his ability to make highly authentic historical films. His films exist in a space that is entirely unique to his vision.
Alongside his unique settings, Eggers does not sacrifice historical accuracy to limit cost or promote convenience. With The Northman, Eggers used several consulting academics to guide his vision towards complete authenticity. His narrative rests atop artifacts and literature that are centuries-old and have all been carefully contextualized by historians. Like every good, researched story, his narrative comes from the research instead of coming from carefully curated facts used to legitimize an otherwise incomplete story.
With the help of historians and academics, ships were constructed, and clothes were sewn with close attention to every thread and nail. Even the incredibly odd and dramatically violent "sport"—traditionally called knattleikr—played between clans was overseen to ensure that no rules were forgotten.
As Eggers begins working on his fourth film—which has been rumoured on multiple occasions to be a remake of Nosferatu—audiences and fans can rest assured that it will remain consistent with his previous films. Eggers has defined himself as a true auteur—a director who is capable of, and is interested in, expressing a unique worldview, and signing it with his distinct style.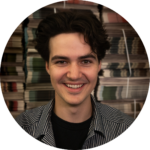 Copy Editor (Volume 49) | aidan@themedium.ca —Aidan is completing a major in Professional Writing and Communications at the University of Toronto Mississauga. He previously worked as the Associate Editor for the Arts and Entertainment section of The Medium, and currently works as the Copy Editor for The Medium. When he's not catching up on course work or thumbing through style guides, Aidan spends his free time exercising (begrudgingly), singing (unmelodically), and trying (helplessly) to read David Foster Wallace's Infinite Jest. The latter of which has taken 3 years to reach the 16th page. You can connect with Aidan at aidan@themedium.ca.