Orange Shirt Day at U of T in support of Indigenous communities

Hart House, UTM Indigenous Centre, and First Nations House host various virtual and in-person events to provide support for Indigenous communities.
This Thursday, U of T will join millions of Canadians in recognizing Orange Shirt Day. Occurring annually on September 30, Orange Shirt Day is designated to raise awareness toward Indigenous communities and the children who attended residential schools. Canadians across the country will wear orange and engage in meaningful discussion in hopes of building bridges. The University of Toronto will be offering resources to raise awareness, both virtual and in-person.
On September 30, Hart House will be hosting a virtual event featuring a keynote address by Lee Maracle, an award-winning poet and author. She is also a former instructor at U of T, and a mentor for Indigenous students. The event will also feature a video by Phyllis Webstad who will discuss the significance of Orange Shirt Day. This is a free event and participants will be required to register on the Hart House website before attending.
U of T also recognizes that spreading awareness is one of the key methods to commemorate Orange Shirt Day. This year, staff and students are encouraged to use the Orange Shirt Day icon as their profile picture until September 27, and make use of the virtual backdrop for all their online meetings.
In addition, the UTM Equity, Diversity, and Inclusion Office recently launched the Orange Shirt Day social media campaign. Every week until September 30, the office will provide resources, supports, tours, and history surrounding Orange Shirt Day. These posts will include videos, graphics, information, and stories for people to "Learn, Listen and Act" during the campaign and after.
Faculty at UTM will provide resources to help instructors incorporate Indigenous teachings and histories into their lessons. These will include the Deepening Knowledge Project, which aims to "infuse Indigenous Peoples' histories, knowledges and pedagogies into all levels of education in Canada," as well as the Four Feathers Writing Guide. This guide will work to develop Indigenous students as academic writers.
The UTM Indigenous Centre also has also curated list of resources such as books, podcasts, and videos for those who want to learn more about Orange Shirt Day and the significance behind it. For podcast listeners, Indigenous Roots and Hoots, produced by the Legacy of Hope Foundation, tells the stories of Indigenous authors, artists, scientists, and more, highlighting their experiences across Canada.
UTM Indigenous Centre's resource list also features several short films and documentaries that explore the horrors of residential schools and their lasting impact. Legacy of Hope: Survivor Stories, Indian Horse (available on Netflix), and We Were Children (available on Amazon Prime) all tell the stories of Indigenous children and what they faced at the hands of this system.
The list also includes a selection of readings and books, including "Unsettling the Settler Within Indian Residential Schools, Truth Telling, and Reconciliation in Canada" by Paulette Regan and "A National Crime" by John S. Milloy.
Lastly, the UTM Indigenous Center encourages people to take meaningful action such as making donations to Indigenous foundations, writing commitment statements, or writing to elected officials. More information can be found on their website.
U of T's First Nations House will be available to support Indigenous students and their families and create a space where members can celebrate their culture. On September 30, a virtual workshop and sharing circle for students will take place at 3 p.m. EST where participants must register ahead of time. The organization will also share strategies on how to balance the focus of a student while honouring one's ancestors.
Orange Shirt Day is vital in recognizing the significance of honouring the experiences of Indigenous communities. With the resources available at U of T, all students should take the time to engage in conversation, learn, support Indigenous communities, and find ways to answer the calls to action set out in the Truth and Reconciliation Commission of Canada.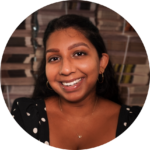 Staff Writer (Volume 48 & 49) — Hema is currently in her final year, finishing a double major in Linguistics and French Language Teaching and Learning. She previously served as a Staff Writer for Volume 48 of The Medium. Her favourite part of writing is the opportunity to research new topics, speak to new people, and make her voice heard, and she hopes that her articles can spark this interest in other students. In her spare time, you can find her in bed reading with a cup of coffee (and she's always looking for more book recommendations!).