No Time to Die and the serialization of Hollywood

The James Bond franchise continues to survive as the film industry recycles nostalgia.
Action movies are like junk food—nutritionally devoid, enticingly marketed, always sold in combo packs in dingy convenience stores, and perhaps most appropriately, almost universally condemned by mothers everywhere. Despite the obvious deterrents, I—like others who sheepishly leave their desire for enlightenment at the door for a film that is nostalgic of TV dinners and has at least one car chase (preferably in an Aston Martin)—line up, money in hand, to buy a ticket for the new James Bond film No Time To Die.
For the above reasons, and because of a poorly-timed recollection that I have not seen all of the preceding film Spectre, I do not have high expectations walking into the theatre. However, as I loosen the academic insistence that any film worthwhile must be insightful and poised, and God forbid there be any explosions, I become a little giddy. Two hours, in an air-conditioned theatre, watching Daniel Craig kick ass in the most stylish way possible? It might not be a well-balanced meal, but it is going to taste good.
The film opens in Norway and immediately establishes its cinematic presence. A long shot isolates a cabin along a frozen lake. The colour palette is crisp and refined as the lighting suspends the scene in dusk or dawn. Inside, cool tones fill the cabin like a draft pouring in through an open window. The camera moves slowly, stirring up the stillness before a long shot frames a masked man who trudges toward the cabin with an assault rifle in his hands.
It is this sort of atmospheric world-building that the Bond films, specifically the Craig ones, are so good at executing. Whether it is the "Hoffler Klinik" in Spectre, perched high in the Austrian Alpine; or the Skyfall Lodge, tucked deep in the Scottish Highlands; or more classically the manicured streets of London; the films always catch the attention and imaginations of viewers with its aesthetics—the fashion, the splendor, and the excitement.
Perhaps it is the atmosphere of a Bond film that is so attractive; it permeates visual sensibilities, and for many people who watch Bond films, that is all they are interested in. No one goes to see Bond tackle some malicious secret organization to gain insight into the inner workings of human nature, or in search of some existential question. They go to see car chases, beautiful women, and to see the man order a damn martini.
There is little that is morally redeeming in James Bond. He is reclusive, misogynistic, a murderer in probably 82 different countries, and quite honestly the product of a Eurocentric, patriarchal imagination. I would be seriously concerned if people went to see No Time To Die in search of anything other than flying bullets and fancy watches.
If it is only superficial, how potent are the series' more outdated qualities? I am not sure myself and do not wish to reduce the issues, but only wish to provoke the question of whether or not a film can be enjoyed for one aspect while criticized for another, like eating around the rotten part of an apple. Granted it would be nicer to have a fresh one.
It seems that the producers are aware of the series' gradual extinction. One of the film's final quotes has M, played by Ralph Fiennes, read a quote from Jack London: "The proper function of man is to live, not to exist. I shall not waste my days in trying to prolong them. I shall use my time."
While certainly a poignant quote pertaining intimately to the film's ending (no spoilers), I could not help but smile at the irony; a quote on purpose and preservation ending the twenty-seventh Bond film. I am sure this was not lost on the directors but rather it was a way of warning the audience of the subtle change in Bond's direction.
As the credits rolled, I could not help but reflect on the current serialized state of cinema that floods the Hollywood studios. Producers and directors are now gravediggers, feverishly digging for something to pawn off at the box office. Space Jam, Star Wars, Jumanji—anything with nostalgia that can be marketed.
Perhaps the stoic, emotionally isolated, and heavily marketed Bond—that has been the influence for so many drink-heavy, sports-car-driving, misogynistic action "heroes" (a word I use with reservation)—has seen his life slowly turn to existence at the hand of avaricious producers determined to wring every cent from Mr. Bond.
Hopefully, the producers of the following film (because there is always a film that follows) have the bravery and creative pride to make way for a new Bond. One who still drives over the speed limit and does not shy away from a martini now and again, but also one whose creation is a testament to a series that lived on rather than one simply trying to prolong its days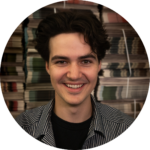 Copy Editor (Volume 49) | aidan@themedium.ca —Aidan is completing a major in Professional Writing and Communications at the University of Toronto Mississauga. He previously worked as the Associate Editor for the Arts and Entertainment section of The Medium, and currently works as the Copy Editor for The Medium. When he's not catching up on course work or thumbing through style guides, Aidan spends his free time exercising (begrudgingly), singing (unmelodically), and trying (helplessly) to read David Foster Wallace's Infinite Jest. The latter of which has taken 3 years to reach the 16th page. You can connect with Aidan at aidan@themedium.ca.