Four concrete walls with wooden faces,
Stare back at me, dull and lifeless.
11 p.m., the coffee spill cleaned to leave no traces.
White light; letters on keys, flickering, blinding; keeps me timeless.
Staggered attempts at escaping this black mirror-box
Of empty hellos and goodbyes and incomplete mornings and nights,
Created Unknown Resilience and she never stops.
Madam U.R. chooses not to empower, strengthen, or save me; she invites.
Glass holds me hostage in my room;
Drowning in forgotten waves of conversation,
And with every breath of ocean-scented air in this tomb,
I find her being in its creation.
A crumpled photo marked 2002,
White tears on creased faces, a hopeless token.
Madam inspects the door, locked with stress, and windows too,
7 a.m., sunlight floods through the bars, unleashing the world awoken.
Her hand hovers over mine, sweaty as I crouch with eyes squinted and step out;
Her shrill laughter paints a map to follow;
I release myself, in doubt.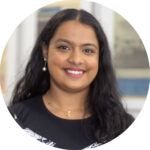 Opinion Editor (Volume 48) | opinion@themedium.ca —
Aroni is a fourth-year student completing a double major in Political Science and English. She previously served as the Associate Comment Editor for Volume 47. Aroni is keen on enabling a safe and trusted space within the student body for students to critically think about issues that matter to them—both on a personal to global scale. Outside of studying, writing, and editing, she loves to dance to classic Bollywood tunes, cycle while listening to music or a podcast, write in her blog, and watch endless K-dramas on Netflix and Viu. You can connect with her on Instagram, LinkedIn, or her blog.