U of T plans for its first in-person convocation after Covid-19
As the Ontario government continues to loosen restrictions, universities have introduced new regulations and brought back the return of numerous events. After two years of virtual convocations, students of the graduating class of 2022 will be having an in-person graduation ceremony. Like all of U of T's in-person gatherings, the convocation will follow Covid-19 protocols to ensure the safety of attendees. The ceremony will take place at Convocation Hall at U of T's St. George campus. U of T's Spring convocation will have more than 15,500 students graduating with 32 separate ceremonies between June 2 and 24. The university will release details on the number of guests at a later time.
Mississauga's former mayor renews position as UTM special advisor
The University of Toronto Mississauga (UTM) is renewing its partnership with Hazel McCallion, former mayor of Mississauga of 36 years, in the appointed role as a Special Advisor. The role designates McCallion as a guest lecturer while allowing her to help cultivate a master's program in urban innovation and development at UTM's Institute for Management and Innovation. She also has been working to develop a non-credit training course for those aspiring to enter public service. Her 36 years of knowledge as Mississauga's previous mayor will be beneficial in advising future projects and developments around campus.
IPCC report outlines concerning statistics on the world warming climate
The Intergovernmental Panel on Climate Change (IPCC) released its sixth assessment report on the impacts of climate change and reviewed the limits the human world can press on the natural world's resources. The report states that in the next two decades, the risk of the climate increasing to 1.5 degrees Celsius is high and that planting a tree is not enough to save the planet from catastrophic changes to the environment. The report looks to stop the production of fossil fuels across the world and immediately find alternative forms of energy to thrive on. More information on the recent IPCC report can be found on their website.
Celebrating 195 years at U of T
Students, faculty, librarians, and staff across all three campuses honoured U of T's 195 birthday by wearing white and blue on March 15. Founded in 1827, U of T has accumulated a lot of notable history. The university took this day to celebrate the amazing scientific discoveries over the past 195 years. U of T has been recognized by various celebrities including The Weeknd, who donated $50,000 for the school's Ethiopic Studies, and Fred VanVleet, who launched a scholarship with the university for Black and Indigenous students. U of T's Twitter page took the opportunity to quiz the community on how much they know about the university.
UTM commemorates Sustainability Week on campus
From March 14 to 18, UTM's Master of Science in Sustainability Management held its annual Sustainability Week to encourage students to destress for the upcoming exam season. The week includeed a series of student-led events designed to bring the UTM community more knowledge on sustainability and encourage more sustainable behavior. Their goals are to celebrate sustainability initiatives at UTM and to build meaningful connections among the campus community to work towards a sustainable future. Students are able to obtain CCR credit after completing a minimum of three sessions from the events by March 31. The events included learning about financial wellness, learning the importance of technology and its relation to sustainability, and many more.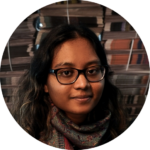 Staff Writer (Volume 49); Associate News Editor (Volume 48) — Razia Saleh is currently completing a Biology degree at UTM. She has been involved with The Medium since 2020 as a contributor and continued to write for The Medium as an Associate News Editor during Volume 48. She hopes that her experience as a writer with The Medium will help her contribute to society's efforts to provide authentic and factual journalistic media to educate her readers. She hopes to take her interest in ongoing research within the scientific field and explore ways to share it with others through this platform. In her spare time, she paints natural landscapes inspired by her travels and enjoy a few live concerts throughout the year. You can connect with her on Linkedin.