Man facing charges after attacking congregates in Mississauga mosque

Dar Al-Tawheed Islamic Centre is considering amplifying security measures during prayer after people inside were assaulted with bear spray during prayer.
On March 19, officers received a call regarding an assault that took place inside a Mississauga mosque where multiple people were attacked with bear repellent spray. Peel Regional Police believe the attack to be a "hate-motivated incident," and 24-year-old Mohammed Moiz Omar is facing several charges.
Several witnesses stated they saw Omar enter the mosque with a hatchet in one hand and bear spray in the other during Fajr, dawn prayer, around 7 a.m. According to the imam of the Dar Al-Tawheed Islamic Centre, Ibrahim Hindy, there was a group of 20 people praying shortly before the attack took place.
"It's a scar that is going to take a long time before it goes away. But at the same time, we're not going to let this deter us from coming to the mosque," says Noorani Sairally, one of the 20 men praying, to CTV News.
On the same day, Omar appeared in a bail hearing at the Ontario Court of Justice in Brampton. He faced multiple charges including "assault with a weapon, administering a noxious substance with intent to endanger life or cause bodily harm, possession of a weapon for a dangerous purpose, uttering threats, carrying a concealed weapon and mischief to religious property," according to the Peel Regional Police website.
Fortunately, members of the mosque were able to repress the attacker before police arrived at the scene. After dragging the man to another prayer area, members found a bag containing various other sharp-edged objects on his person, including another ax and knives.
The mosque is now considering keeping its doors locked during prayer times due to the frightening incident. Many people sustained minor injuries after being sprayed in the eyes and throat, while others had to run outside due to the severity of the spray. One other person, however, was struck by the axe.
Commander of 12 Division, Superintended Rob Higgs states in a recent conference, "Violence of any kind is unacceptable in our community, and we are taking this matter extremely seriously. This is an ongoing investigation led by 12 Division Criminal Investigations Bureau and we will continue to work closely with our community partners as our Diversity, Equity and Inclusion and Divisional Mobilization Officers continue to engage with faith leaders and community members."
Prime Minister Justin Trudeau takes the matter to social media calling the attack "incredibly disturbing." In his tweet published on March 19, Trudeau writes, "I strongly condemn this violence—which has no place in Canada—and I'm keeping the community in my thoughts today. I also want to applaud the courage of those who were there this morning."
Toronto Mayor John Tory also shares his thoughts on Twitter, stating he is thankful for those who were able to stop the attack. "We stand with the Muslim community in Mississauga, Toronto and across Canada in the wake of this assault," he writes.
Peel police are set to continue this investigation while the mosque is providing support for those affected by the incident. Meanwhile, members of the mosque are already raising money to restore the mosque in time for the holy month of Ramadan. So far, Dar Al-Tawheed Islamic Centre has raised more than $3,000.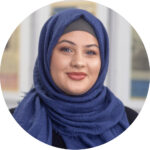 News Editor (Volume 48) | news@themedium.ca —
Going into her third year, May is currently completing a double major in Sociology and Criminology. Before becoming News Editor, May contributed The Medium for two years as a Staff Writer and Associate Features Editor. One of her biggest goals is to launch a nonprofit organization that mediates humanitarian crises around the globe and that supports children living in third-world countries. When she is not writing or studying, May spends her time working with canine coaches to provide supervised fun to four-legged furry friends at Dogtopia Applewood.