Identity, trauma, and the beauty of friendship in Theatre Erindale's The Wolves

The theatre's rendition of Sarah DeLappe's award-winning play left audiences speechless.
Bright green turf lined the stage and walls of Erindale Studio Theatre at the University of Toronto Mississauga (UTM). Dim lights created a sense of intimacy in the dark auditorium. Prior to attending Theatre Erindale's rendition of Sarah DeLappe's The Wolves, all that I had known about the Pulitzer Prize finalist was that it centred around an American soccer team. I did not know what to expect of the plot or production.
While The Wolves is about a soccer club for teen girls, the themes covered in the show went far beyond a simple match. After UTM's land acknowledgement was given, loud electronic music and a blackout signified the top of the show. As the lights came up, nine players in blue and red uniforms stretched onto the turf. The cast was roughly split in half—one group debated an article they had been assigned in class on the Cambodian Genocide, and the other group teased a more religious member of the team for her choice of menstrual products. The dialogue was witty and quick, layering the two conversations on top of each other boldly.
A new member of the team, known only as #46 (Mirphie Kinanga) interjected, saying that she had been to Cambodia. The others ignored her. With youthful ignorance, #46 was treated as an outcast. Her teammates mocked the stories she shared about her homelife, misunderstanding her words—like "yurt" for "yogurt." Emotional, #46 gave a poetic monologue, comparing her feelings with her teammates' accusation that she lives inside a "yogurt."
#46 butted heads with#7 (Reena Goze), a foul-mouthed striker who was rumoured to have had an abortion. The gossip about #7's abortion, a recurring topic in the show, gave me the understanding that the play was about the societal struggles of young women. Another important topic was portrayed by #2 (Ava Patterson), a team member that struggled with an eating disorder. In a memorable scene, she refused to eat orange slices in front of her team, only to binge on the entire bag when they left.
Every scene in the play took place prior to the team's games, while they stretched and warmed up. The team captain, #25 (Sydney-Paige Scott), attempted to keep the team motivated, despite the indifference of their coach. Wanting to maintain the bonds that her team created, #25 struggled to keep it together while she watched several of her teammates meet with university scouts. As #25 grew to realize her sexuality, she blossomed through her relationship with an unseen character named Louise.
Every character in The Wolves dealt with something internal. #11 (Sierra Small) battled her psychiatrist parents, as she did not want to be constantly psychoanalyzed. #13 (Juliet Spizziri) had no filter and said whatever came to mind—regardless of the offence that may have been taken. #8 (Chloé Castrucci) was insecure about her physical appearance.
Under the direction of Anita La Selva, every member of the cast gave a stellar performance. However, stand-out performances came from Abigail Henry as #00— the team goalie—and Nasim Sedaghat-Ramirez as #14 and Soccer Mom. Henry's character suffered from intense anxiety that stemmed from the immense pressure she was under to perform exceptionally—both academically and in her extensive extra curriculars. #00's solo scene was one of the most impactful moments in the play. She stood on stage, the turf empty, and authentically portrayed the reality of an emotional breakdown. She did not speak. Instead, she let out a blood curdling scream and collapsed to the ground—an unexpected but powerful moment.
Loss was an ongoing theme within The Wolves. #7 lost her chance at a soccer career due to an unfortunate skiing injury. She also strained her relationship with #14, abandoning her teammate during a ski trip and leaving her with a boy she did not know. The biggest loss in the play, however, came with the shocking death of #14.
After the loss of her daughter, Sedaghat-Ramirez entered as Soccer Mom and gave an outstanding and delirious monologue. It was a heartbreaking moment, showcasing the strength of a mother that is completely broken inside. This scene was unexpected and riveting.
The Wolves placed importance on the numerous battles that young women go through. If I had one critique, however, I wish that some of the darker topics were explored more thoroughly. For example, it was implied that #14 experienced some form of harassment or assault, but her story was not explored in detail. Similarly, #2's eating disorder was only implied.
Overall, Theatre Erindale put on a fantastic production of Sarah DeLappe's The Wolves. Every performer left everything they had on the "turf." If you have not had a chance to see a Theatre Erindale play, I recommend you check out what they have coming up this season. All information and tickets can be found at tickets.sheridancollege.ca.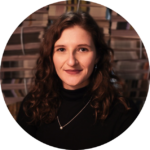 Associate Arts & Entertainment Editor (Volume 49) — Megan is majoring in English with minors in Creative Writing and History. Her love of the arts and experience in theatre and music are the backbone of Megan's work with The Medium. Aside from her academics and journalistic endeavors, Megan can be found writing original music for streaming platforms, playing her pink Fender Jazz Bass, writing spooky detective stories, longing for the mountains of B.C., and watching Disney+. Her preferred instruments of writing are her notes app and her 1970s Erika typewriter. You can connect with Megan on Instagram, Twitter, and LinkedIn.