Hyperinflation, power cuts, and shortages of food and medicine drive Venezuelans out of their country
For several years, Venezuela has been suffering from a severe socio-political and economic crisis, becoming one of the worst current humanitarian catastrophes on the planet. Due to high unemployment rates and difficulties in accessing food, water, and medicine, millions of Venezuelans have fled the country.
As of June 2021, more than one-sixth of the population has left the country, or 5.6 million of 30 million residents.
The crisis has also worsened due to an uprising of political opposition to President Nicolás Maduro, who was elected in April 2013 after the death of former President Hugo Chávez. In May 2018, Maduro was re-elected, resulting in several protests.
The opposition-controlled National Assembly did not recognize this re-election and the presidential position remained vacant—leaving Juan Guaidó to step in and declare himself as acting president in January 2019. So far, more than 50 countries, including the U.S., have recognized Guaidó as the legitimate president.
Since then, the ongoing dispute between these leaders has led to major economic challenges including wages falling far behind the inflation rate. For instance, the Venezuela Café Con Leche Index reveals that from August 2020 to August 2021, the price of a cup of coffee has increased by 2,597 per cent.
Up to date, hyperinflation has been one of the country's main problems.
The Preventive Priorities Survey ranked Venezuela as one of the top conflicts to watch in 2021, due to its accelerating economic collapse and political instability.
Canada acknowledges that this is an unprecedented crisis and offers numerous ways to provide immediate aid to the country.
Since making international phone calls is challenging for some, the Government of Canada website encourages citizens to either send an email to sos@international.gc.ca to request a phone call, or to contact the Emergency Watch and Response Centre in Ottawa to take action.
On the same website, Canada expresses their dedication by stating, "We are committed to protecting human rights and to helping Venezuelans find a solution to the crisis through the promotion of a peaceful return to democracy."
Additionally, United Nations and other partners are recognizing these worldwide crises, as they have recently launched an annual assessment plan on December 2 to "alleviate suffering in 2022." Venezuela is one of many countries that will receive help from emergency response teams.
For any University of Toronto Mississauga students seeking support, the Latin American Student's Association hosts both virtual and in-person events. The association also facilitates conversations where students can lead and participate in discussions.
By hosting dinners, meetings, conversation circles, and other gatherings, Latin UTM students can participate in these events for support and entertainment.
As it is important to recognize ongoing global issues such as Venezuela's, U of T's President Meric Gertler is constantly raising awareness about important matters. For instance, Gertler makes mention of Universities Canada, a non-governmental organization committed to tackling pressing global challenges.
"It plays a vital role in setting the agenda and trajectory for Canada's future economic and social wellbeing," Gertler states in his recent inaugural address as chair of the board of Universities Canada.
With global crises like the one happening in Venezuela right now, it is important for governments to recognize these issues and for individuals worldwide to be aware and informed.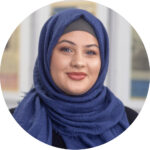 News Editor (Volume 48) | news@themedium.ca —
Going into her third year, May is currently completing a double major in Sociology and Criminology. Before becoming News Editor, May contributed The Medium for two years as a Staff Writer and Associate Features Editor. One of her biggest goals is to launch a nonprofit organization that mediates humanitarian crises around the globe and that supports children living in third-world countries. When she is not writing or studying, May spends her time working with canine coaches to provide supervised fun to four-legged furry friends at Dogtopia Applewood.