How Studio Ghibli and Disney films present gender roles

Analyzing the skinny, big-eyed ideal of Disney's heroines versus the relatable female characters of Studio Ghibli.
Almost every little girl born between the 80s and the 2000s dreamed of a powder blue, sparkly Cinderella dress for her birthday. Girls, globally, loved the movie—or rather, they loved wearing bright pink t-shirts from the Disney store imprinted with the princess' face. But as generation Z and millennial groups grew up, the story of Cinderella became a lie. Disney never promised its viewers real-life happy endings with their prince charming. Instead, they told tales of princesses that sparked immense female body image insecurities.
Studio Ghibli, a Japanese animation studio, was founded in the mid-80s by artist Hayao Miyazaki, director Isao Takahata, and producer Toshio Suzuki. In 2017, Studio Ghibli films became distributable in North America. Through characters who defied hurtful female stereotypes and promoted healthier relationships with themselves, the studio has transformed Western movies into films that displayed actual heroines. Today, Studio Ghibli continues to depict their protagonists as strong and independent, while many Disney princesses still follow the same "damsel in distress" trope.
While the studio's heroines have friends and sidekicks, they never need saviours. They are brave and capable of fighting for what they believe in—whether it is environmental sustainability, a dream job, or better health. On the contrary, the well-known Disney princesses that grew up with us create their destinies on the basis of charming princes, fairy godmothers, or talking animals. They exist only as beautiful victims who fall helplessly into a villain's trap.
Studio Ghibli animations display a more realistic type of romance—grounded in friendships and mutual interests rather than physical appearance. Their heroines do not need to impress their love interests with long eyelashes and sparkly dresses. For instance, Sheeta and Pazu, from the studio's well-known adventure film Castle in the Sky, travel and accompany one another on their journey for an extended period of time before developing feelings for each other. A similar "friends to lovers" relationship exists for Sophie and Howl from Howl's Moving Castle, who fall in love through open conversations and comfort from one another.
The studio places no emphasis on the physical appearance of its female characters. Their heroines look and act like real-life, awkward, pre-teen girls whose bodies have not fully developed yet. 15-year-old San, from the Ghibli film Princess Mononoke, has no obvious curves or a waist smaller than her head—unlike Jasmine from Aladdin, who is roughly the same age as her.
I have to give Disney some credit for their later princess movies. While Snow White, Cinderella, and Sleeping Beauty followed the "poor damsels" pattern, Merida from Brave and Elsa from Frozen stay true to their ambitions and don't actively seek a prince or saviour. Still, even though these princesses are represented as self-sufficient heroines, they remain mostly passive. They rebel, but only verbally, and the films fall back into the princess-needs-prince storyline.
Studio Ghibli's heroines fearlessly embody contraries. Their characters merge good and bad, ruthlessness and compassion, and masculine and feminine attributes. Each movie the studio releases helps young girls all over the world understand that beauty lies in the imperfections within and around them. Most importantly, Studio Ghibli breaks through the gendered norms that the Western film industry captures in its princess stories, encouraging girls to stay true to themselves and be independent.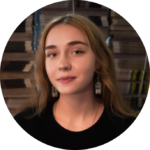 Associate Features Editor (Volume 49) — Olga is a second-year student studying Professional Writing and Communications and completing a double minor in French and Environmental Management. She joined The Medium this year as an Associate Features Editor and is excited to start connecting with many interesting people for her interviews. In her spare time, you can find her taking long mental-health walks around UTM's campus and listening to Harry Styles' latest album. Olga hopes the students of UTM will be able to see themselves in her articles and relate to the stories of her interviewees.