Funding opportunities for racialized researchers and projects

UTM implements a Grant Research Program funding 12 researchers to address the continuous challenges with racism, social injustice, and discrimination.
This year the University of Toronto Mississauga (UTM) collaborated with leaders from the different associations including the Black Faculty Research Network, the Vice-Principal Academic and Dean, the Vice-Principal, Research, UTM's Indigenous Centre, as well as UTM's Equity, Diversity & Inclusion Office. They have launched a new project to fund individuals of Black, Indigenous, and other racialized groups contributing to the research of destigmatizing racism and racial disparities.
The program will enable researchers to investigate "the ongoing effects of racism and racial disparities in all aspects of society, including within academia," says UTM's Associate Vice-Principal, Research Elspeth Brown, professor in the Department of Historical Studies.
Dr. Lauren Schroder and Dr. Negin Dahya, both recipients of the 2021 Black, Indigenous, and Racialized Scholar/Research Grant Program, provide insight on the application process and speak about what these initiatives might mean for BIPOC researchers and students.
UTM faculty members who work full-time are eligible for the grant. Successful applicants are able to reapply for the funding 24 months after the competition deadline. Depending on what they choose to study, applicants can opt for a research seed funding or workshop/outreach application.
Candidates applying for research seed funding can receive up to $10,000 to implement pilot programs on campus, fund research work, and stimulate research creation, while candidates applying for workshop/outreach grants can receive up to $2,000 to facilitate and organize conversation-based community workshops, to attract visiting scholars or artists, and develop creative works.
Being the first grant program at UTM, Schroder discusses how this is a big step forward for the university. "This grant program helped fund a series of workshops/panel discussions related to what a decolonized biological anthropology looks like. Given the long history of scientific racism and colonial practice in my field, these workshops aim to provide space for discussion about the past and current complicity of the discipline to make the future of the discipline better," adds Schroder.
Schroder continues by stating, "I believe that this grant program [would] provide the resources to help us have these conversations that are needed to move academia forward. In addition, there are numerous studies showing how Black, Indigenous and racialized scholars are often unsuccessful and overlooked in grant applications, not for a lack of merit, but due to the many conscious and unconscious biases inherent in various stages of evaluation, and therefore this program is a way to make the playing field more equitable."
Moreover, this has allowed Dr. Negin Dahya to launch new projects. "[It is] important to know that esteemed colleagues who reviewed the proposal feel that it is worthwhile," says Dahya, "All of these are motivating factors and incentives to keep moving forward with important work that does not always receive recognition. It also allows for the development of pilot level research which then enhances the quality and strength of larger grants, to increase their likelihood of success."
Dr. Negin Dahya also comments on UTM's step forward in this initiative. "This is hard to say. It's [definitely] a step in the right direction and I hope signals for students that this faculty and this work is happening at UTM. It may also be one additional element to draw more BIPOC Faculty and students to UTM which is great."
In addition, Dr. Schroder also took the time to advise future UTM students to attend workshops like the American Association of Biological Anthropologists (AABA, the largest international professional association for biological anthropologists) that would "contribute to the transformation of this field" and investigate and explore the issues of racism, social injustice, and discrimination. "[By] having UTM provide monetary support for this initiative emphasizes the commitment from our university to be a part of this change."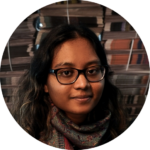 Staff Writer (Volume 49); Associate News Editor (Volume 48) — Razia Saleh is currently completing a Biology degree at UTM. She has been involved with The Medium since 2020 as a contributor and continued to write for The Medium as an Associate News Editor during Volume 48. She hopes that her experience as a writer with The Medium will help her contribute to society's efforts to provide authentic and factual journalistic media to educate her readers. She hopes to take her interest in ongoing research within the scientific field and explore ways to share it with others through this platform. In her spare time, she paints natural landscapes inspired by her travels and enjoy a few live concerts throughout the year. You can connect with her on Linkedin.