Flourishing female music artists

Discover five women on the fast track to fame for their hit songs.
As the music industry becomes more diverse, we find ourselves exposed to new music. With the emergence of social media and music streaming services, we share our favourite hits, artists, and albums with friends and family, yet it can still be difficult to discover artists who are not mainstream. Thus, I present to you (in no particular order) five female artists who have grown in recent months.
Raveena Aurora
Despite being in the music industry for several years, Aurora has been gaining recent attention with her new album, Asha's Awakening. Her music emanates nostalgia as she delicately crafts each song. With her touching soul hits and smooth melodies, Aurora's music is easy to vibe to.
Mothica 
Mothica's rock-influenced style of pop is a real head-turner. Building her music career with no record label, publicist, or manager, Mothica began promoting her music on TikTok in 2020. Her recent EP—Forever Fifteen—has made her even more popular, following her chart-topping album Blue Hour and her TikTok-induced hit "VICES," which shot up to second place on the iTunes music charts and surpassed Watermelon Sugar by Harry Styles. As Mothica's music often speaks the story of her life, her music is extremely touching and, for some, relatable.
Sadie Jean
Jean's music career is another one that was kickstarted by TikTok. As of now, she only has one released single—"WYD Now?"—which sported its own open-verse duet challenge on TikTok, raising lots of attention. With the countless duets and covers on the platform, Jean has gained more fans in the past few months.
Lauren Spencer-Smith
Spencer-Smith was a contestant on the eighteenth season of American Idol in 2020, placing in the top twenty. She recently also gained popularity from her song, "Fingers Crossed," when it went viral on TikTok. She quickly amassed a following, giving attention to her other songs as well. People have also been loving Spencer-Smith's goosebump-inducing covers as she posts them regularly on TikTok and YouTube. Her voice is powerful and captures so much emotion and feeling that you just cannot help but relate. 
BIA
BIA is a rapper who started her career on a radio show and then signed with a record company where she had the opportunity to collaborate with artists like Kodak Black. She later split from the record company and released independent songs, one of which caught the attention of Rihanna who reposted it and sparked the #BestOnEarthChallenge on social media. From here, the song "Best on Earth" with Russ went viral and peaked on Billboard. As she continues to move forward in her career, BIA has participated in many collaborations with other rap artists—such as Lil Durk, Nicki Minaj, and G Herbo—and anticipates many upcoming projects and albums.
Among these up-and-coming women in the music industry, there are many more artists who are amazing at what they do. Beyond making music that people love, these women embrace their stories, embodying passion and power in their art.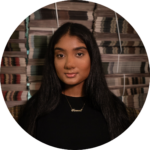 Opinion Editor (Volume 49) | opinion@themedium.ca — Kareena is a third-year student completing a double-major in Criminology and Socio-Legal Studies and Philosophy, and minoring in Forensic Science. She has previously served as the Associate Opinion Editor for Volume 48. Through her involvement and contributions with The Medium, Kareena hopes to foster a safe and trusted space, while encouraging others to let their voices and stories be heard. When Kareena is not writing or studying, you can find her watching true crime mysteries or cooking.