Filling the void through academic validation

Students experience burn-out from over-working themselves for the sake of success.
Academic stress, academic validation, and academic burn-out—three terms that most of us know far too well. The absolute desire to succeed in school—which leads to feeling like we're disappointments with no real trajectory—is a paralyzing thought.
There seems to be a misconception that in order to be the best of the best, you need to struggle as much as possible. Otherwise, you have no value, or you don't deserve whatever success you do manage to receive.
Why do people do this? Why do people overwork themselves in order to feel like they're a good student or a good worker or a good friend even? If we're not in agony and swamped with work or responsibilities, why do we feel like we're not doing enough?
It all started in middle school when friends would ask each other what they got on that math test or that English essay. Comparison bruises your ego. It places you in a contest and a race to get the highest grade in the class, or to have the most credentials by the time you graduate.
While some don't view their friends as competition, there are those who constantly take an extra course load, join as many clubs and societies as possible, and seek a multitude of work-study opportunities in the hopes that it'll make them feel like they're worth something.
We often look at the student in six clubs, three internships, and four upcoming public speaking events and think, "they're so intelligent and capable." We make similar remarks while speaking of that one co-worker who stays overtime every night. We, as human beings, have a tendency to equate struggle to success, and success to value.
Truly, as time passes, it becomes apparent that those who attempt to over-compensate in academics are genuinely trying to find a means to fill whatever void exists within themselves. While this may not be the case for everyone, and perhaps is a little bit of an exaggeration, for many, striving for success with this unhealthy mindset can be detrimental to their mental well-being and contribute to more frequent instances of burnout.
I say this because I do this, and I know countless others who do the same. Here I am, at 9:12 p.m. on a Wednesday night, still at my university campus, slaving away at the computer screen in hopes that all this fatigue, exhaustion, and over-working will not only secure a stable future but also aid me in my attempts at feeling happy. I do all this because society and the students around me have led me to believe that a struggling student is a successful one.
There are individuals who sacrifice all aspects of their social and home life to excel at school. They make no time to see friends or family and give little effort to the activities that once filled them with joy.
So, while people exhaust themselves beyond comprehension, it's so unequivocally true that quality beats quantity in the eyes of employers and graduate schools. An individual might have the longest resume ever seen, but unless they've gained real skills that can be carried to every sphere of life, what good will it do when they finally meet the real world and have no idea how to navigate it? What fun will there be when they want to celebrate but there's no one to celebrate their successes with? Moderation, in all the beautifully complex and exhausting parts of life, remains to be the key to genuine success.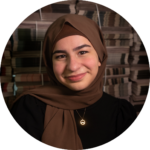 Changing Leaves Columnist (Volume 49); Managing Editor (May–November, Volume 49) — Aia is a fourth-year student studying Psychology and completing a double minor in French and Philosophy. She became a Staff Writer for The Medium in the 2021-2022 publishing year and was determined the team couldn't get rid of her so soon. In her spare time, she can be found café hopping in the hopes to find the best iced chai in the GTA, writing her weirdly complex thoughts down in her notes app, or taking a million pictures a day of her friends. Aia hopes that students find The Medium and feel the sense of belonging she has felt. You can connect with Aia on Linkedin.