El Salvador becomes the first country to officially adopt cryptocurrency

Bitcoin seemed like a potentially progressive idea for the country at first, but it was doomed to be problematic.
El Salvador became the first country in the world to adopt Bitcoin as an official currency, as of September 7, 2021. Bitcoin, a cryptocurrency founded in 2009, eliminates the need for banking services and allows holders to purchase goods and services anonymously. The coin allows international payments to occur with ease and cost less, since there are no national ties to the currency. Bitcoin offers holders the opportunity to trade and transfer the currency with others, and also mine for more bitcoins. The coin is stored in a "digital wallet", typically in a cloud or on one's computer.
With El Salvador's welcoming spirits for this new official tender, "the country had purchased 400 Bitcoins worth an estimated US$21 million and rolled out hundreds of Bitcoin ATMs." This huge investment into a new era of money doomed the nation to face spiraling unrest with the roll out. Within hours of becoming a legal tender, the value of the world's cryptocurrencies fell to a low of US$1.9 trillion, nearly 15 per cent less than its value just a day before—foreshadowing huge losses.
Despite high expectations for this decision, the induction of the newly legal cryptocurrency presented a dire situation for Salvadorans. Polls suggested that most Salvadorans were in fact against the legalization, and consequently took to the streets in protest. Protests have persisted since September 8 to fight the adoption of the cryptocurrency, but also President Nayib Bukele's "attempt at harnessing power in the nation."
Thousands of protesters gathered together in San Salvador, the nation's capital, on their 200 year anniversary of independence to bear signs saying "Bukele Dictator" and "Respect the Constitution." A few protesters also smashed windows and lit a Bitcoin ATM on fire. Former Supreme Court Justice Sidney Blanco was also part of the protests and said "the time has come to defend democracy."
The President is being accused of using authoritarian means of being in power and risking "instability and inflation to the impoverished Latin American country." However, President Bukele remains firm in his belief that the new induction will allow foreign-residing Salvadorans to easily send money back to El Salvador. He responded to the demonstrations by tweeting "they say the 'vandalism' was the work of 'infiltrators', but there has been vandalism in ALL their demonstrations." Although annual global remittances exceed US$500 billion, the President seems to view emigrants as economic resources for El Salvador, thus hoping for economic repatriations to build the nation's economy.
Salvadorans don't trust the President's 'well intentions' as the new chaotic unraveling of the cryptocurrency has produced political and authoritative distrust and uneasy feelings in the nation. Yet, President Bukele still has a 85.7 per cent approval rating, according to local newspapers. This unprecedented and unregulated decision poses huge risks to the nation's economy, and to the safety and security of its people—concerns that are echoed by private citizens, former judiciary members, and other protestors.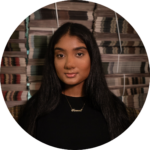 Opinion Editor (Volume 49) | opinion@themedium.ca — Kareena is a third-year student completing a double-major in Criminology and Socio-Legal Studies and Philosophy, and minoring in Forensic Science. She has previously served as the Associate Opinion Editor for Volume 48. Through her involvement and contributions with The Medium, Kareena hopes to foster a safe and trusted space, while encouraging others to let their voices and stories be heard. When Kareena is not writing or studying, you can find her watching true crime mysteries or cooking.