Editorial: You are not alone
Last year, we published an editorial for our Mental Health Awareness issue that discussed the importance of mental health care as a form of healthcare. Normally, we don't like to publish anything from year-to-year that overlaps—we tend to gravitate toward pushing new content where we can. However, sitting down in front of this computer to write to you all, I couldn't help but return to last year's message.
I'm not someone that easily asks for help. I'm the kind of person who will do everything in my power to push through with a smile on my face, often putting my mental health or self-care on the backburner in the process. I have struggled with my mental health for my entire life, but that wasn't something I had ever reached out for assistance with. Not until last year.
After a string of unfortunate and stressful events, I was at the lowest point I'd ever been. Still, I kept a full course load, two part-time jobs, and told people I was totally fine and not to worry. A good friend of mine sat down with me and told me about his past experiences with mental health issues, which largely paralleled my own. He told me that he had been in this situation himself, and that talking to someone about it was the best thing he ever could have done for himself. While initially reluctant, I did end up taking his advice, and I can honestly tell you that it made a bigger difference than I ever could have expected.
I didn't think this experience, and my mental health in general, would be something that I would ever be so open about. But sitting down to write this editorial, I realized that the biggest bit of help I've ever received was being told that I didn't have to go through this alone. Knowing that someone understood me, that someone had gone through similar experiences and saw noticeable improvement, made all the difference in making the choice to reach out for a little bit of help.
So, if you take anything from the pages of this issue, I hope that it's that no one is alone in their struggles with mental health. Contrary to what it might feel like at the time, there is always someone out there that understands you. And, while it might feel stressful or scary or even awkward, reaching out for help is more than okay—sometimes, it's necessary.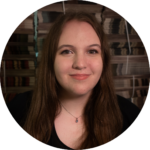 Managing Editor (Volume 49); Senior Copy Editor (July–November, Volume 49); Copy Editor (Volume 48) — Juliana is a fourth-year student completing a double major in English and Professional Writing and Communication. She previously worked as a Copy Editor for Volume 48 and briefly as Senior Copy Editor for Volume 49. When she isn't adding commas or splitting up run-on sentences, Juliana loves to read, play violin, sing, fangirl over multiple TV shows, and completely spoil her two dogs.