Do you trust the food labels in your local grocery stores?

Products that use forced Uyghur labour are on grocery stores shelves in Canada.
A recent investigation by CBC's Marketplace, Investigative Reporting Project Italy, and The Guardian, found that many popular tomato products sold in major grocery stores, like tomato sauces, pastes, and ketchup could be products that are harvested by the forced labour of Uyghur Muslims in China. Grocery stores in Canada like Whole Foods, Loblaws, Walmart, and Sobeys have products that are connected to the work of the Muslim minority group who are tortured by the Chinese government. The Uyghurs have to choose between working in the tomato field or being tortured in the inhumane concentration camps.
Big-name brands such as Nestle, Unilever, and Del Monte purchase their tomatoes from Xinjiang, China. Chinese companies ship them to countries such as Pakistan, the Philippines, and India for further processing. Eventually, the tomato products are sold in Canada's grocery stores. All while most consumers are unaware of their true origins, or the labour that went into them.
The Marketplace reached out to Del Monte asking about the origin of their tomatoes and they confirmed that "[Del Monte] uses Xinjiang tomatoes but they say there is no worker exploitation." Nestle claims "they follow government regulations." And Unilever has not commented on the matter.
The product label regulations of Canada do not require companies to disclose the geographical source for the entire product. The only country they must make public is the last country where the product was packaged for further manufacturing before they are sold in Canada. The complication with this label regulation law is that it makes it difficult for Canadian shoppers to know where all the raw materials are from. This can cause companies to take advantage of this law by conducting corrupt and unethical practices.
Italian suppliers for Canadian grocery stores were investigated and found to be purchasing tomatoes from Chinese companies who exploit the labour of Uyghur Muslim people. When questioned about the raw materials used in their products the Italian grocers claim that "no Chinese tomatoes are used in these products."
The grocery store Whole Foods has permanently removed the 365 Double Concentrated Tomato Paste from all the stores "out of an abundance of caution" when Marketplace notified the supplier. Another Canadian tomato paste company sold in Whole Foods is Bosa Foods Italissima tomato paste. This company has an Italian supplier, Antonio Petti Fu Pasquale, whose tomato sources are from Xinjiang companies. Mehmet Tohti, executive director of the Uyghur Rights Advocacy Project, "strongly condemns" Whole Foods' relation with Petti. Eventually, Whole Foods grocery store decided to remove the product and cut ties with Petti as a food supplier.
"Why are they stopping in the wake of a media investigation?" asks Adrian Zenz, Senior Fellow in China Studies at Victims of Communism Memorial Foundation. Tomato companies are not complying with ethical reasoning. Only when journalists, citizens, and society gained an awareness of the situation did they take action.
The Uyghur Muslims in China are suffering, they are tortured for their religion and labelled as "extremist" even as the Chinese government takes extreme measures to exploit them. The moral responsibility relies on the supermarkets in Canada are stocking and selling products made on the basis of Uyghur forced labour. With the knowledge and awareness that grocery stores are purchasing tomatoes from China, it is our moral responsibility as Canadian customers to avoid these products.
This is much easier said than done, considering the label regulations of Canada make researching an impossibility. And as consumers, it is unlikely we will be spending a long time standing in the grocery store tracing the geography of a product, we usually just grab the first thing we see on the shelf. But we can take other action. We should take action by creating petitions directed to the government of Canada to change the product label regulations and for grocery stores to change their ethical standards so that they no longer support food sources that exploit labour. Boycotting or choosing not to support brands and companies that exploit Uyghur labour is one small step we can take as Canadians to fight the injustices that Uyghur Muslims are experiencing right now.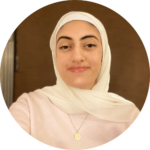 Associate Opinion Editor (Volume 48) — Haya Abu Ghosh is a fourth-year student double majoring in English and Political Science. When I am not doing any school work, I love going out with friends to coffee shops and dining in restaurants to socialize. My passions include but are not limited to reading, writing, sketching, binge-watching Netflix TV shows, taking pictures of nature and talking about politics (do not get me started talking about the Palestinian-Israeli conflict, Indigenous injustices, Uyghur Muslims in China and many more topics).