Changing Leaves: We made it!
Listen friends, we made it—barely, but we made it. Happy end of the semester. Happy end of yet another year of energy drinks and long nights. I'm proud of you.
Back in October, I hit the worst low I have ever hit in my 22 years of living. In the span of three weeks, my anxiety about French class turned into anxiety about everything—my other classes, talking to professors, going to work, or even leaving my house. I was terrified. I wish I was overreacting. I wish it wasn't as scary as it was. But I was burnt-out mentally and physically. I wanted to be proud of myself—and I was, until I wasn't.
School isn't worth my legs trembling, or the nausea, or the panicked sleep, or the dizziness, or the sobbing, or feeling like I was going to die at every second. It wasn't worth it. There was no rush to complete school by a certain time.
Back in October, I would've thought, "I'm not sure I'll make it out." I've learned that life isn't a race—a cliché. I've learned that every sacrifice makes way for more growth, and that the people who love you will know you are not what you fear. My article, "Mind|Body|Soul," in The Medium's most recent magazine, In With The New, was written for any student that has ever felt like me—it wasn't for me.
The first time I travelled to England, I had flown alone whilst hauling a huge suitcase around London, all the way to Oxford. I got to Oxford at 11 p.m. after a three-hour bus ride and spent time at the one place open that late—a game café with no internet. And I did it all alone. I'm the person who has no issue getting physically lost, because I know I will always be found. My adventures remind me of my strength.
This is my last column piece for Changing Leaves, and maybe my last article for The Medium ever. These last few days at U of T have been bittersweet—I want to escape these walls while enjoying the last moments I'll have of my childhood, knowing this is the last time all my friends are in one spot. I will miss car rides with Liz, shivering in the cold with Shanavi, Omar raiding the office snacks, Youssef's karaoke sessions, Daanish's photography skills, being loopy with Lina, practicing my Egyptian with Dalia, and Mahira's cryptic messages. I'll miss every friend, listed and not.
My four years at UTM have helped me grow, become assertive, fall in and out of love, and feel strong in my faith, family, and self. I've sat at a café on a beautifully blue day whilst drinking coffee with someone I will likely not see again. I've made friends with British exchange students, professors, and strangers on the Go Bus. I've felt my fair share of imposter syndrome with my greatest passion—writing—especially at the beginning of The Medium's publishing year, but I've learned so much as a writer and editor here, at Muslim Girl, and at The Muslim Voice magazine. If I've accomplished that much in five months, I can only wonder what pride I'll feel once I dedicate myself to whatever craft I pick.
I'm in a better place now—running away from the pain of the past while holding onto the promise of the future. I'm still terrified of the dark, stormy cloud that hovered over me for months, and I still sense that cloud looming over me every now and then. However, my emotions can't hurt me. I've learned to not fight my anxiety, but work with it.
Good luck on your adventures. I really hope my column resonated with some of you. You can always connect with me on Instagram (it's literally my full name). And remember, facing fears head on—travelling, romance, skydiving, failing—is the only way to slay. And, as I always say, "another day, another slay." That, and "yolo."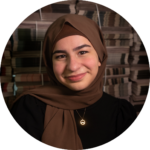 Changing Leaves Columnist (Volume 49); Managing Editor (May–November, Volume 49) — Aia is a fourth-year student studying Psychology and completing a double minor in French and Philosophy. She became a Staff Writer for The Medium in the 2021-2022 publishing year and was determined the team couldn't get rid of her so soon. In her spare time, she can be found café hopping in the hopes to find the best iced chai in the GTA, writing her weirdly complex thoughts down in her notes app, or taking a million pictures a day of her friends. Aia hopes that students find The Medium and feel the sense of belonging she has felt. You can connect with Aia on Linkedin.