Changing Leaves: Renewing our 2023 intentions
Lights gleam, skates glide across the ice, and overly sweet hot cocoa magically appears in my hand almost every single night of the holiday season. With the break coming to a close, I'd like to take a moment to reset our intentions for 2023. I don't really believe in New Year's resolutions; maybe they work for others, but I think intentions and new beginnings force me to hold myself accountable for the year—or at least for January.
I've learned and developed some new habits and mindsets throughout the Christmas break, as I urgently needed to adopt some healthier thought patterns. I've read books, gone out, spent more time with family, and watched shows, but I've also caught myself crying, blaming myself, lashing out, isolating myself, and staring at the ceiling while overwhelming thoughts clouded my mind. Now, more than ever, is the time to state our intentions and what we've learned. Grab a pen, write yours down with me, and let's revisit them at the end of the semester. Mine are pretty vague, and I acknowledge that within each intention is a journey, but do as you wish, because this is your personal list.
Start assignments, tasks, and obligations as early as possible to avoid unnecessary stress. My rule is, if you can do it in under five minutes, do it now. That includes hanging your clothing, washing your dirty dishes, writing a draft, and whatever else you may have on your plate.
People think less about you than you think—especially people from high school. There is no need to worry about how those from your past perceive you.
You're young—so act like it. Stop imposing strict standards and have fun. Stop acting like an adult and start acting like an actual university student. Seek adventure, big or small. I've made a bucket list that includes flying a kite.
Grades are important, but they are not more important than your sanity and health. Nothing is worth more than your well-being. Help yourself now to ensure success later.
You don't need to do a million projects or jobs to feel successful. Focus your energy on what is really important, and that includes your relationships. Protect what you have now.
You could be the nicest person on Earth, and people will still dislike you. And unfortunately, you can't do anything about it.
Professors are normal people, and some can be really nice. Go to office hours, send emails, and talk to them. I wish I had done this earlier.
Life is full of highs and lows, that much is guaranteed. The only aspect of life within your control is how you react.
Don't be afraid to give new people a chance. I'm very hesitant with who I call a best friend, but 2022 gave me a really amazing one.
Fear can sometimes be a good thing because it forces you to stay in the moment. We're not here forever, and I want to make sure I remember every detail while giving my full attention to who is with me.
And this is not the end of it. There are lessons in more things than we know—we just don't always realize them along the way. So, from now till the end of the semester, let's take the time to reflect on the lessons we have learned, and try not to worry too much about the lessons still to come.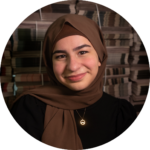 Changing Leaves Columnist (Volume 49); Managing Editor (May–November, Volume 49) — Aia is a fourth-year student studying Psychology and completing a double minor in French and Philosophy. She became a Staff Writer for The Medium in the 2021-2022 publishing year and was determined the team couldn't get rid of her so soon. In her spare time, she can be found café hopping in the hopes to find the best iced chai in the GTA, writing her weirdly complex thoughts down in her notes app, or taking a million pictures a day of her friends. Aia hopes that students find The Medium and feel the sense of belonging she has felt. You can connect with Aia on Linkedin.