Changing Leaves: I left The Medium
I absolutely loved being Managing Editor of The Medium. The journey has been filled with intense emotions but has presented me with opportunities to explore the hobby I love so much. Writing is engrained in my character, memories, and my friendships. It makes me proud and—by extension—working at The Medium has made me feel the happiest to be Aia.
But the truth is, I've hit some lows in the past few weeks and had to shift from prioritizing others to prioritizing my own needs. I overworked myself emotionally, physically, and mentally. I tried to be the version of myself I always wanted to be and—for a while—I was. I was tired, but I was proud. Then, the activities I enjoyed no longer brought me pleasure. I felt lost, helpless, and above all else, empty. The future terrified me, and in all honesty, it still does.
My anxiety is trying to drag me into an abyss of helplessness and fear. Still, despite the events of the last few weeks, there is a fire brewing to come back as stronger than before, but in order to rebuild and strengthen myself, I need to prioritize my health.
So, I left the publication.
The Medium is an absolute dream. The office space, the authority, the experience of holding the magazine and newspapers in your hand. The coffee breaks, the Googling your name, and the sight of your face all over the Instagram feed. It is lovely.
On my last day of work, we hosted a launch party for our magazine, Out with the Old. Liz and I knew for a while that the end was coming, but the team only found out a few days prior. On the last day my brain was on auto-pilot—I was simply trying my best to prepare the best party ever. And the party was everything we hoped it'd be. Holding the magazine in my hand and turning each page illustrated by the most talented Manjot, felt bittersweet. Tears welled in my eyes, and I quickly wiped them away. I didn't want to make my leaving any harder for Liz, Juliana, or myself.
Consider this my goodbye letter as Managing Editor and a welcome to Juliana, the new Managing Editor. Juliana, I know you will kill it. And to Liz, you are the best Editor-in-Chief The Medium has ever seen. Thank you for caring for me during such a difficult time. You are family.
Thank you to everyone for your continuous support. We will continue to join each other on this column journey 'till April. See you next time.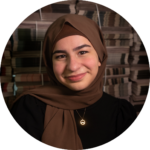 Changing Leaves Columnist (Volume 49); Managing Editor (May–November, Volume 49) — Aia is a fourth-year student studying Psychology and completing a double minor in French and Philosophy. She became a Staff Writer for The Medium in the 2021-2022 publishing year and was determined the team couldn't get rid of her so soon. In her spare time, she can be found café hopping in the hopes to find the best iced chai in the GTA, writing her weirdly complex thoughts down in her notes app, or taking a million pictures a day of her friends. Aia hopes that students find The Medium and feel the sense of belonging she has felt. You can connect with Aia on Linkedin.