Changing Leaves: Halloween blues
Halloween is the season of trading candy with your friends, discovering razors or drugs in your Twizzlers, and last-minute costumes. I don't really remember Halloween as a child (aside from the getting into costume part). But what my family loves to bring up every single October is the time I went trick-or-treating in my aunt's neighbourhood yelling, "I hate my life" between every house.
Let me tell you the story. One year, we were visiting family in the quiet town of Ajax. Every single house on the block was dark—not a single light on. Nobody wanted kids to come and beg for candy. We found a random children's dress in my aunt's house that I wore to be a "princess" and I went door-to-door trick-or-treating with my older cousins who were practically guilted into taking me. Little me hated my life, kicking and screaming as I sparsely filled my basket.
Ten years later and I have not heard the end of this story. It is quite literally etched into everyone's minds, but as much as I find it a little "cringe" that I even threw tantrums on the street, I like hearing about it. It reminds me that we grow up, and moments of hardship—even as small as hating your Halloween costume—come to an end. So now, with school destroying my body and mind, memories like these remind me that relief and the end of the struggle will come.
It's kind of odd how little-Halloween-Aia is teaching big-school-Aia new things every day. And most importantly, little-Aia reminds me that the bad and painful comes to an end, and the good comes out again.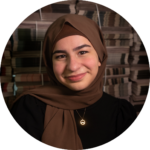 Changing Leaves Columnist (Volume 49); Managing Editor (May–November, Volume 49) — Aia is a fourth-year student studying Psychology and completing a double minor in French and Philosophy. She became a Staff Writer for The Medium in the 2021-2022 publishing year and was determined the team couldn't get rid of her so soon. In her spare time, she can be found café hopping in the hopes to find the best iced chai in the GTA, writing her weirdly complex thoughts down in her notes app, or taking a million pictures a day of her friends. Aia hopes that students find The Medium and feel the sense of belonging she has felt. You can connect with Aia on Linkedin.