At the heart of justice—Maya Angelou

Maya Angelou will be featured as the first of many commemorative women within the American Women Quarter Program.
It's difficult to grasp that the Civil Rights Movement occurred only within the last 100 years, and that the painfully unjust stories, agonies, and triumphs of Black people are not historical but present. And while we, as a society, are late in appreciating those who deserve to be appreciated, the U.S. government has decided to commemorate Maya Angelou, a Black female poet, singer, dancer, actress and civil rights activist, by minting her face on the quarter.
Maya Angelou lived a life of extraordinary strength and intelligence. She was the first female Black director in Hollywood. She fought alongside Martin Luther King Jr. until his assassination, after being politically awakened by his moving speeches. She aided his civil right organisation, the Southern Christian Leadership Conference, by collecting funds through staging a revue. Angelou was also a companion of Malcolm X. The two developed the Organization of Afro-American Unity. She continued to inspire countless lives even after passing in 2014.
Angelou advocated for racial justice, inaugurated Bill Clinton, fought for same-sex marriage, and she was the only female editor of a newspaper, The Arab Observer. She fought for economic justice by demanding fair wages for workers and the abolition of poverty. Angelou's writing was comprised of her experiences in regard to childhood trauma, sexual assault and racism. She wrote her own narrative; one that shows the beauty, intelligence and wit of both women and Black people. While her stories are painful, it is necessary that the young and old are acquainted with them and their messages. They depict a harsh reality of what Black people had to face, and still must face. Her writing is a continuous reminder of American society's deeply evil past.
Now, she is featured on the U.S. quarter with arms wide open. I can't think of a better pose for her than one that shows how free, brave, and unapologetic she was in doing the right thing. Angelou is the first of many in the American Women Quarters Program. The effort will also commemorate physicist and first woman astronaut Sally Ride, as well as the first female principal chief of the Cherokee Nation, Wilma Mankiller. The magnitude of the importance of these women, including Angelou, can be seen in the line of individuals featured on coins prior. It was all white men, and many of them were slave owners. It is time to strike out the names of all those who erased the Black narrative and create an environment where only those who deserve the appreciation receive it.
Angelou's honesty and expertise in writing and art is essential in inspiring all ages. The power of language can turn the most ignorant hearts into empathizers. The beauty of art is that it shows different perspectives, it strengthens our will for change, and is one of the greatest weapons at our disposal.
While some may argue that this commemoration on a coin seems insignificant, this is no small feat in the battle for racial justice. All progression is good progression. As a Middle Eastern Muslim woman who finds inspiration in writing, I look at Maya Angelou and see a woman who pushed the barriers forced upon her, on a literary, artistic, and social level. She took control of her future, but her work isn't over. Racial injustice, ethnic cleansing, poverty, and prejudice—these are all things still prevalent within our society. Keeping her legacy alive empowers change.
Maya Angelou was a pivotal inspiration to women and Black people within the U.S. and outside of its borders. She pushed the boundaries of the rigid frameworks presented to her within the art world, and she executed her art to perfection. Maya Angelou risked her life for the sake of justice and truth. Truth remains consistent, and prevalent, and that which she fought for will always live longer than any of us will. She will remain the heart of justice.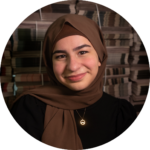 Changing Leaves Columnist (Volume 49); Managing Editor (May–November, Volume 49) — Aia is a fourth-year student studying Psychology and completing a double minor in French and Philosophy. She became a Staff Writer for The Medium in the 2021-2022 publishing year and was determined the team couldn't get rid of her so soon. In her spare time, she can be found café hopping in the hopes to find the best iced chai in the GTA, writing her weirdly complex thoughts down in her notes app, or taking a million pictures a day of her friends. Aia hopes that students find The Medium and feel the sense of belonging she has felt. You can connect with Aia on Linkedin.